---
Ada Songor salt Project: Communities Call for revocation of McDan-ElectroChem License
Source: www.thenewindepedentonline.com
Scores of people from various parts of Ada communities marched through the principal streets of Ada to protest against 3 investment leases granted to Electrochem Gh. Ltd. a company owned by McDan, a renowned businessman in Accra.
Members of communities such as Lufenya, kablevu, Luhuor, Kpotitsekope, Aminapa, Midea among others clad in in red attire expressed their disinterest with various inscriptions to express their dissatisfaction for government to discontinue with an agreement for ElectroChem, salt winning company owned by McDan to win salt in the Songor lagoon.
Parliament, on 4th October, 2020 in a mining lease agreement granted ElectroChem Gh. Ltd. mineral right to exploit salt resource in the songor lagoon and surrounding communities.
The agreement leases ratified by parliament among other things mandates the company to engage in winning salt in an area of about 39,166 acres of land for 15 years subject to the mining laws of Ghana.
Addressing members of the community, the Libi wornor, Numor Apedo Ayornu also known as the salt priest, who is the custodian of the Songor lagoon pointed out that, the lagoon which has been the main source of livelihood for the people of Ada cannot be leased to a single entity on the pretext of solving an old conflict which has evolved for decades without following the due process involved.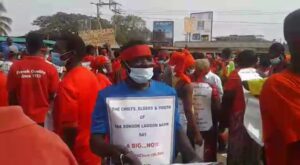 According to the Traditional priest, the paramount chief of Ada does not have the authority to allow the said company to work on the songor lagoon and surrounding communities without the express permission of the Libi wornor who is the custodian of the lagoon.
The traditional priest indicated that the entire songor lagoon together with other fishing and farming lands have been bundled into three concessions as Ada songor, B and C and granted to Electrochem Gh. Ltd. a company allegedly owned by Mr Daniel Mckorley popularly known as McDan.
The youths and elders, therefore, appealed to government to cancel the 3 lease agreement granted the company to enable the inhabitants continue to win salt and engage in other related farming activities as their only source of livelihood for over 400 years.
Source: www.thenewindependentonline.com
You can send us your stories via editor@thenewindependentonline.com or Whatsapp @ +233549522573