All is Set for NFC GYM Inauguration on February 7
Source: Sheila Satori Mensa
Religious leaders including Imams and Pastors within Fadama, suburb in Accra would officially inaugurate a bodyfitting center,NFC GYM.
Although registration of members is ongoing,  inauguration of the facility is slated for Sunday 7th February, 2021 at 12noon where the prominent men of God and the National Chief Imam would bless and commit the facility into the Hands of God.
The bodyfitting center, NFC GYM which would be operated 24hrs is located directly opposite the residence of His Eminence the National Chief Imam of Ghana at Fadama and  can accommodate 50 people at a time.
NFC is an acronym of NEW FADAMA CITY and the name was originated by the young people of Fadama about ten years ago to first and foremost promote new Fadama as a decent and peace loving community that aspire development, promote education and eradication of illiteracy in Fadama by instilling, encouraging and motivating the young ones to embrace education and look up to the older generation that have excelled in education.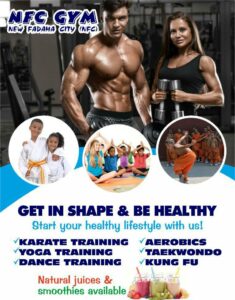 Furthermore, instill some degree of pride in the upcoming generations of young people in Fadama to believe in themselves and take their own lives and destinations serious.
NFC GYM aims at promoting healthy living and healthy lifestyle thereby increasing life expectancy rate of the new generation of the Fadama people and its environs.
NFC has evolved to become a household name in Fadama and its environs and has therefore attracted the hearts and soul of the Fadama youth.
The youth of Fadama have really embraced NFC to the effect that many of the initiatives, activities and programs of Fadama youth are now using NFC.
There are things like NFC BASKETBALL TEAM, NFC BASE, NFC ATAYA, NFC MAULID TEA AND COFFEE AND many others.
Speaking to Alhaji Khuzaima M. Osman who doubles as the Co-Founder and Manager Director of NFC Gym and also MD of Fadama Business Center,he explained that there would be some mixture of activities and events at the gym at its full operation, such as Special time for interfaith leaders; religious and traditional leaders who might need some special occasion or time, time for the young people, kids and children on Martial arts such as karate, kunfu, teakwondo and etc
As well as special dance training as part of promoting wellbeing among the residents and Special physiotherapy period which would be available on bookings only.
And competition on Arm wrestling, weight lifting, strong men and strong women and many more.
"Each exercise has a dedicated trainer and coach and one can have a special time with trainers (on bookings only), he noted adding that, one is promised of many adventures, exercises with special gym equipment.
The place (gym) is designed to accommodate working class people who can pop in early morning to produce some sweats and increase healthiness and take a cold or warm shower before going to work.
Source: www.thenewindependentonline.com
You can send in your stories to editor@thenewindependentonline.com or Whatsapp @ +233549522573