UPSA Inaugurates COVID-19 Ambassadors to Educate Students on Campus
Report by: Ben LARYEA
The University of Professional Studies Accra (UPSA) has launched a 100 member COVID-19 student Ambassadors to spearhead the fight against the disease on campus and the needed measures to put in place to prevent the spread of the virus.
The Ambassadors in this regard have been challenged to put their skills together and ensure that the university operates freely from any infection of the disease since management of the university have provided the materials, resources, training to educate students to observe the COVID-19 protocols on campus as well as their hostels.
Speaking at the inaugural ceremony in Accra, the Pro-Vice Chancellor of UPSA, Prof. Charles Barnor said the fight against the pandemic is a collective responsibility of management, staff and students hence the students body have been inaugurated to commence work.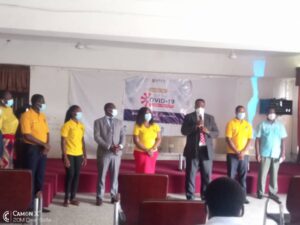 According to him, he is deeply worried about some students' inability to simply comply with the safety protocols and however said that, the disease is real and must not be taken for granted hence, necessary for the university to scale up the education on the pandemic through the Ambassadors.
The Pro-Vice Chancellor commended the ambassadors for their commitment in performing their duties and urged them to exhibit a sense of professionalism in every part of their working endeavour.
The Medical Director of the UPSA clinic, Dr Bernard Dornoo advised the ambassadors to ensure that people from all walks of life comply with the safety protocols, saying that the new variant of the virus is more deadly and accompanied with underlying factors and complications.
He further urged the management of the University to constantly ensure that the ambassadors are supplied with the needed materials and resources to carry out their work effectively and efficiently.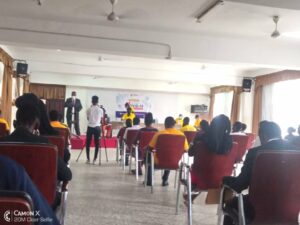 The Director of Academic Affairs at the UPSA, Dr. Edward Bannerman-Wood challenged the ambassadors to be role models in the fight against the pandemic for others to emulate their shining example.
In a related development, the Student's Representative Council (SRC) presented Personal Protective Equipment (PPE) to management as part of their effort to support the fight against the pandemic.
Receiving the items, the Interim President of the COVID-19 Ambassadors, Mr Bright Obonse said the items received are timely and will be put to good use.
Source: www.thenewindependentonline.com
Do you have a story, video for The New Independent Online? WhatsApp Us on +233549522573
You can also email us at editor@thenewindependentonline.com