BIBLE SOCIETY OF GHANA donates 1,500 Bibles to the Ghana Police Servic
Report by: Ben LARYEA
As part of the spiritual drive to support the security services in the country, the Bible Society of Ghana (BSG) has presented 1,500 Bibles to the Ghana Police Service at a ceremony in Accra.
The gesture is to support and renew the spiritual upliftment of security officers serving in the country and also on peace keeping across the world in reading the bible in every endeavour of their lives.
Presenting the Bibles, the Chief Executive Officer (CEO) and General Secretary of BSG, Rev. Dr Enoch Aryee-Atta said the donation falls in line with the Bible security project of which 20,000 bibles will be supplied to the respective security agencies in the country add that the reading of the Bibles will renew their minds spiritually in the discharge of their duties.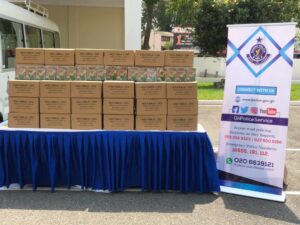 Throwing more light on the Bible week celebration held in every February themed "Preparing for the future, the Bible as a guide" he said people are facing all manner of challenges and explained that the reading of the Bible with its spiritual practice will bring remedy and comfort to them.
"The BSG have put in place mechanisms to train security personnel in collaboration with the Ghana Police Service to treat people who are traumatized and depressed", he stressed.
Rev. Dr Aryee-Atta said the BSG have translated the Bible from Hebrew and Greek into Ghanaian languages saying the Bible have been translated into 10 major languages with Sefwi language as the latest in series.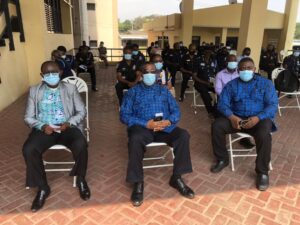 According to him, the cost of translation amounts to $32 million to translate 31,122 verses of the Bible and however called on corporate Ghana to support the Society in its delivery of services in reaching out to every part of the country.
The Chaplain-General of the Ghana Police Church, Assistant Commissioner of Police Church (ACP) Very Rev. Frank Twum-Baah commended the BSG for the presentation and urged other bodies to emulate the shining example of the society.
"The partnership between the GPS ad the BSG will continue to grow from strength to strength and again thanked the Society for its support services across the country", he added.
Source: www.thenewindependentonline.com
Do you have a story, video for The New Independent Online? WhatsApp Us on +233549522573
You can also email us at editor@thenewindependentonline.com