UPSA Matriculation: 'Embrace Virtual Teaching And Learning- Students Urged
Report by: Ben LARYEA
The University of Professional Studies, Accra (UPSA) has held its 2021 matriculation ceremony with the call on students to adapt to the new teaching and learning through virtual education which forms part of the effort by management to prevent the spread of the coronavirus disease COVID-19 on campus.
"Examinations will be held for few courses as others will be organised as take home assignments", he said and explained further that for the period of six weeks, students will be engaged in face to face teaching as against other six weeks of online and virtual teaching.
The Vice Chancellor of the UPSA, Prof. Abednego Amartey was speaking at the matriculation ceremony of newly admitted students in Accra to pursue various Undergraduate and Diploma and Post graduate courses.
The students admitted were 8,247 and comprises of 1,623 Diplomas, 5,671 undergraduates, 883 post graduates with 70 pursuing professional programmes from a total of 13,394 applications for the 2020/2021 academic year.
In addition, there are six international students from Nigeria, Togo, Sierra Leone, Cote d'Ivoire from the West Africa Sub Region.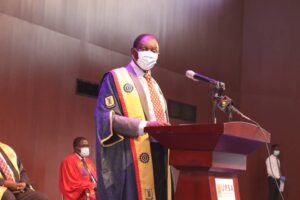 He therefore urged them to be up and doing in their academic work and study in line with the emerging trends on social media platform and give priority to teaching and learning while on campus.
For his part, the Chairman of the UPSA Governing Council, Dr. Kofi Ohene-Konadu said management have rolled out online lectures therefore students must be abreast with the teaching and learning in the wake of the COVID-19 pandemic and urged all to observe the protocols.
He however assured students of management's commitment in ensuring that the needed resources and facilities are always available to ensure safety and security through the period of the respective courses on campus.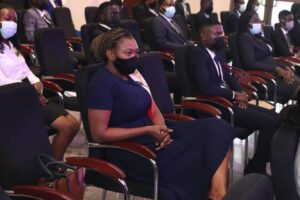 The matriculation ceremony witnessed strict adherence to physical distancing, handwashing and sanitising to prevent the spread of the coronavirus disease (COVID-19).
Source: www.thenewindependentonline.com
Do you have a story, video for The New Independent Online? WhatsApp Us on +233549522573
You can also email us at editor@thenewindependentonline.com