25 Schools benefit from EU 'Green And Healthy Together Campaign' Project
Report by Ben LARYEA
The European Union (EU) Delegation to Ghana has rolled out an initiative dubbed Green and Healthy Together Campaign project in some scores of schools in the country aimed at creating awareness on the preventive measures to reduce community transmission of COVID-19.
The project is also geared towards the promotion and to exhibit best practices for the protection of the environment through recycling, reduction and the reuse of waste in schools across the country.
Speaking at the launch of the campaign in Accra, the EU Ambassador to Ghana, Mrs Diana Acconcia said the project will be operated in 25 schools in Accra with the call on the youth to be abreast with issues relating to the environment as well as the emerging trends and challenges associated with the environment and measures to put in place in the fight against COVID-19.
The event was organised by the Ghana Education Service with support from the European Union (EU) and implemented by Environment 360 a Non-Governmental Organisation (NGO) to be operated in 25 schools this year in Accra.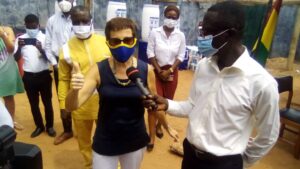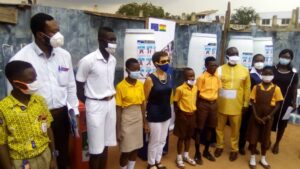 According to her, workshops and other activities will be held with the participation of the schools in an art competition titled "Fight Corona Together" where the youth at the basic will be challenged to use textiles and plastics to communicate on hand washing, wearing of nose mask and engage in social distancing, adding that the competition will go online and other related social media platforms as part of the effort to increase education and awareness.
The Ambassador however urged the children to participate and be part of the awareness campaign and explained that it is part of the measures to enhance their knowledge and their peers to fight COVID-19 and curb its spread through personal and environmental hygiene.
The Programme Coordinator Environmental 360, Mr Carl Selorm called on the school children to practice frequent hand washing under running water, wear their nose mask and sanitize their hand, adding that it is the safest way to curb the spread of the COVID-19.
For his part, the Director of Education, Ghana Education Service, Mr Stephen Abanfo, Accra Metropolis upon receiving the items commended the EU delegation and Environment 360 for their kind gesture and called on other bodies to emulate their example in supporting schools in the wake of the COVID-19 pandemic adding that, the items will be used for the needed purpose, adding that it will complement the environmental practices in the respected schools."
The schools included Ayaalolo 3 Primary, Central Mosque A and B Primary, Ayaalolo 1 and 2 Basic school, Amamomo 3 Primry School, Derby Avenue R/C Basic School and Richard Akwei Memorial School.
In a related development, 5 hand washing basins, 12 packs of tissue and 6 boxes of hand washing soap, 24 refuse bins segregated into plastic paper and other items were presented to six schools in the community.
Source: www.thenewindependentonline.com
Do you have a story, video for The New Independent Online? WhatsApp Us on +233549522573
You can also email us at editor@thenewindependentonline.com