Take advantage of the opportunities in the Boys Brigade – Youth urged
Report by: Ben LARYEA
The National President of the Boys Brigade Ghana, Mr. Moses Foh Amoaning has urged the youth particularly boys to take advantage of the opportunities in the brigade in their respective churches to enable them become responsible in their physical and spiritual endeavours to their adulthood.
He said boys of all standards are freely to join the brigade and the gesture will empower them to obedience, self-respect and also exhibit Christian values in every aspect of their lives.
"When boys are nurtured through the principles and teachings of the brigade it paves way for them to be committed in the advancement of their vision towards the future," he said.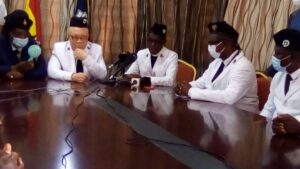 The National President of Boys Brigade, Ghana, Mr. Amoaning made the call during a press conference on the celebration of the Boys social awareness month under the theme "Making Our Boys Brigade Relevant to the Needs of the Youth of Ghana in our Age" in Accra.
Line up of activities of the celebration includes flag raising, presentation of colours and church parade, clean up exercise, Boys Brigade COVID-19 campaign, distribution of Personal Protective Equipments (PPEs), Bible week quiz competition.
The rest are launch of Boys Brigade knock-out and league competition and of Boys Brigade Bible project in partnership with the Bible Society of Ghana, Radio and TV programmes and print and social media platform features and education across the country and climaxed with a thanksgiving and church parade.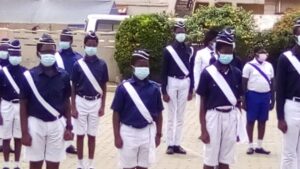 The Boys Brigade Ghana have affiliates in the following churches namely Presbyterian Church of Ghana, Anglican Church, AME Zion, Perez Chapel, EP Church, Jesus Generation and the Methodist Church.
In a statement, the Executive Secretary of Boys Brigade, Ghana, Rev. David Agbloe said the Brigade operates on Christian values geared towards the development of the youth physically and spiritually as 30,000 copies of the bible will be distributed to the youth across the country.
He said the Boys Brigade have over 30,000 membership drive across the country and called on the youth to be part of the body and indicated that the activities will help them discover the God given potential and talent in them and put them into fruitful use.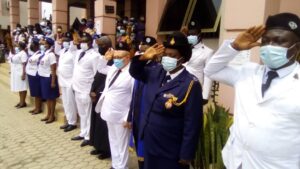 In a remark, Mr. Ernest Danso Ampaw, the National Vice President of the Boys Brigade challenged the boys to engage in the social and spiritual activities of the church to enable them be responsible in the society, adding that their involvement will also groom them to take their destiny in their hands.
He therefore called on parents to urge their wards to join the activities of the Brigade saying, that move will shape them towards the future to become great leaders and also enhance their spiritual wellbeing.
"Government and other benevolent societies must support the brigade to enable the youth to unearth their potential and contribute their quota to the development of the socio-economic growth of the country" he added.
Source: www.thenewindependentonline.com