'Adequately resource maternity blocks in hospitals'-Nat. Association of Registered Midwives Ghana to gov't
Report by: Ben LARYEA
The National President of the National Association of Registered Midwives, Ghana (NARMGH) has appealed to the Ministry of health and its allied institutions to adequately resource health facilities with the needed logistics particular maternity blocks in the various hospitals across the country.
She has also urged government to enhance allowances and incentives for midwives to enable them give off their maximum best in the discharge of duties.
The National President consequently urged midwives in all working jurisdictions to be diligent in the performance of works by projecting the image of midwifery and all fields of endeavour.
Miss Mary Ofori made this known at a news conference in Accra with the call on midwives across the country to provide a comprehensive midwifery services at their respective hospitals.
"I however challenge all midwives to exhibit their core values and duties and bring to bear a committed service to every childbearing woman at every level of the child delivery system by addressing the wellbeing of the mother and the child", she said and explained thus that the gesture is very significant to public health goals and objectives.
According to her, the wellbeing of the citizenry determines the health status of the next generation therefore midwives must professionally care for the childbearing woman and her family which must be seen as a flagship core value of a midwife.
Throwing more light on the unity of the Association, Miss Ofosu reminded the members of the strength in togetherness and called on all to work with a unified front and pointed out that "where there is unity, there is victory".
She therefore advised members to do away with differences in academic status and again called on all to come together to protect and project the image of midwifery in the country.
"NARMGH, she said is open to all practising midwives as a public sector body and not a particular group of different interests", she indicated, saying members in the various health training institution are duly registered and licensed by the Nursing and Midwifery Council of Ghana.
She however urged members to be committed and engage in all activities in the various health facilities at the district, municipal, metropolitan and the national levels and further encouraged midwives to be of good standing and strive to managerial roles as part of the drive to scale up the core mandate in midwifery.
Turning the spotlight on COVID-19 pandemic, she entreated midwives to strictly adhere to the protocols by washing hands frequently under running water, sanitize hands, observe social distancing and always wear nose masks.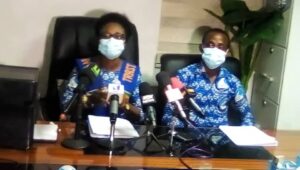 In a related development, NARMGH had its newly elected national officers inaugurated and are as follows, Miss Mary Ofosu – National President, Mr. Jonathan Yelfaari-Vice President, Mr. Harrison Ampaabeng – General Secretary, Miss Veronica Boateng Amankwah – Deputy General Secretary.
The rest are Miss Rosetta Ntriwah Boakye – Public Relations Officer (PRO), Miss Vivan Kumordzi – Treasurer and Miss Doris Abban – Industrial Relations Officer.
Source: www.thenewindependentonline.com