CLOGSAG celebrates Nathan Anang Quao … a civil servant extra-ordinaire
Report by: Ben LARYEA
The Civil and Local Government Staff Association, Ghana (CLOGSAG) has celebrated the 4th in a series of the 2021 Nathan Anang Quao annual lecture and excellence awards in Accra.
The ceremony brings to bear the recognition and awards of works in the civil and local government service of values such as leadership, integrity, professionalism, loyalty, selflessness and political neutrality which are the essential tools as driving force in the service of which Mr. Nathan Anang Quao was not an exception.
It is against this background that, Mr. Nathan Anang Quao, a civil servant extra-ordinaire was able to serve successive government spanning over 40 years.
The awards instituted in 2017 is not only to celebrate Mr. N.A. Qao a distinguished civil servant but also to continue to emphasize on the critical need for civil and local government service staff to exhibit professionalism and remain non-partisan in the performance of duties and service to the country.
The ceremony themed, "Neutrality in Local Governance: Non-Partisan Election of MMDCEs" brought together key stakeholders in the civil and local government service on one platform to recognise staffs who have shown diligence and professionalism in the performance of their duties and particularly demonstrated the essentialities of political neutrality.
In an address, Professor Joseph Atsu Aryee of the University of Ghana, Legon commended CLOGSAG of the annual event adding that, it will scale up the working machinery of the civil and local government service and will further enhance the performance of staff in their respective jurisdictions.
He however urged civil and local government staff not to engage in partisan politics in the line of duty and continue to remain neutral in the political space of the governance systems of the country.
In a brief statement, the Head of the Civil Service Nana Agyekum Dwamena urged civil and local government staff to uphold the principles of political neutrality and remain focused, accountable and be guided by CLOGSAG code of conduct.
He expressed his gratitude to all award winners for their dedication and selflessness to the growth of the service and the nation at large.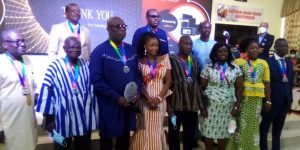 Touching on MMDCEs, he said their performance need the collaboration of civil and local government services to enable them contribute immensely to the Assemblies for the socio-economic development of the country.
For his part, the Head of Local Government Service, Ing. Dr. Nana Ato Arthur congratulated all the awardees and urged them to continue to demonstrate their commitment in every working endeavours.
Mr. Woeli Kwaku Kemevor received the Ultimate Award of the Nathan Anang Quao Excellence Award 2021 saying the gesture will encourage other staffs to discharge their duties effectively and efficiently and expressed his thanks to CLOGSAG.
Source: www.thenewindependentonline.com