SYND Holds Pre-COP26 Youth Summit In Accra
Story by: Magdalene Duncan
The Strategic Youth Network for Development (SYND) has held a Pre-COP26 Youth Summit in Accra recently.
The aim of the conference was to help young people know and understand what the COP26 is all about and how they can get involved and be part of the decision making system during and after the conference.
It was supported by French Embassy and 350Africa.org. other allies including British Council, British High Commission, and Ministry of Environment, Science and Technology.
The conference brought together various youth groups from across the country.
In his welcome address, Mr Solomon Yamoah, the Partnership and Networking Coordinator, SYND said "this  year, Ghana has taken much interest in the COP and have decided that young people have to join the conversation, especially talking about the Kyoto Protocol and  NDCs".
He noted that the summit had been organised to help prepare the young people for the COP.
On the list of panelists were; Prof. Seth Yaw Osafo, a legal advisor to the African group of negotiators to the United Nations Framework Convention on Climate Change(UNFCCC), Dr Antwi -Boasiako Amoah.
The rest are the Deputy Director of Environmental Protection Agency (EPA), who is also the National Focal Point UNFCCC  and Climate negotiator, Dr Daniel Benefor and Mr Kassim Gawusu-Toure, Executive Coordinator, African Youth Initiative on Climate Change & Junior negotiator of African Group of negotiators.
In his presentation, Dr Antwi-Boasiako noted that over 197 countries will be participating in COP26 at Glasgow this year.
He was of the view that just as in a family it is difficult to sometimes have a common decision on an issue, that is how it is often with the COP negotiations.
He therefore urged the participants who will be representing Ghana at the COP26 to " start reading about how the processes are done."
He noted that, there are many issues but as a country, the focus of Ghana is to get " finance that is sustainable, finance that is predictable, finance that can be used to address the needs of the vulnerable ".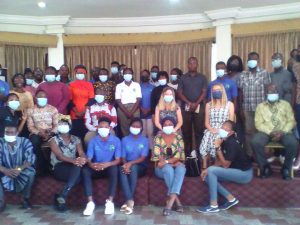 Adding that , "to get the best out of the project because there are a lot of benefits on the carbon market and we need to ensure we get value on the carbon market to support adaptation in the country ".
Also emphazing the importance of the COP26 Summit to the participants, Dr Daniel Benefor was of the view that " we are deciding for the next generation, whatever we do right now will determine how it plays  out tomorrow."
The voice of the youth  he stressed matters because whatever is being determined now will affect them some years to come.
Adding that the policies that are being made today at the global level will inform three things,
– it will determine where investments in future will go
– it will inform government policies
– it will inform business and private sector as well as communities on how they take decisions which in his view is an engender issue.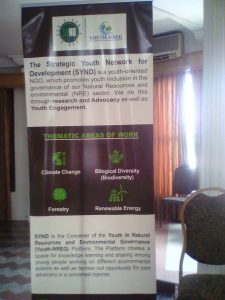 "It is also a production issue because factories and companies that create things needs to conform to these global and international orders.
Explaining that, climate change also affect how we manufacture things, how we manufacture cars, how we manufacture our dresses, how we manufacture our watches and therefore it affects companies.
Furthermore that, "it will affect how we live, what we wear, what we eat, therefore let be very careful about these changes that are occurring in our lives".
"It is a matter of investment, a matter of better choice and protection of the vulnerable and very importantly, it is about how we live", he acknowledged.
To him, "to determine what happens now in future, it is important that you guys get involved."
He therefore urged participants who will be representing Ghana to emphasize three main points;
– that while we recognize that we need the international community, Africa and for that matter Ghana must have the voice to emphasize the need to continue using our natural resources to the benefit of Africa.
-again with regards to financing, that all economies are not at the same levels, adding, those who should lead the way in mobilizing resources and developing countries must be allowed to determine the pace at which we transition.
Furthermore that in terms of ambition, emission which is to have reduced by  15% is rather increasing by 40% and this shows that we are not on the right path.
He ended by adding that "it is an issue that concerns our economy", so urged participants to take it seriously.
On his part,  Prof Seth Yaw Osafo disclosed that about 40,000 people will be in Glasgow to negotiate; NGOs, civil societies, businesses and indigenous people.
Government negotiators will be about 3000 to 5000 therefore advised that " there is a lot happening at the COP and you need to be focused. You need to know exactly what you want in Glasgow otherwise you'll get lost".
He further disclosed that " next year it will be the turn of Africa to hold the COP".
Africa has hosted the COP in Morocco and South Africa respectively in the past.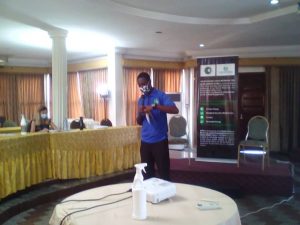 In his closing remarks, the Executive Coordinator for SYND, Mr Chibeze Ezekiel admonished the youth to have a plan and not to always be quick to put pressure on governments.
"Let us be more proactive by showcasing our own self worth, that we are doing ABC, let's put our time and energy to do something worthy".
Adding though climate is changing but it brings about new opportunities, for example in the area of job creation.
Other dignitaries that attended the summit were representatives from the French Embassy, Marine Hayem and Alessandra Oliva, from the Italian Embassy.
Source: www.thenewindependentonline.com