Let's Build the Capacity of Women to Champion Climate Change- KASA INITIATIVE
Story by: Ishmael Barfi, Accra
KASA Initiative has called for more capacity building of women at the grassroots level across the country to enhance their involvement in the ongoing climate change projects especially the Green Climate Fund (GCF).
This according to the National Coordinator, Mr. Jonathan Gokah, will expose them to details of gender action plans per project and equip them to understand as well contribute to the implementation not withstanding, track the development and growth of these projects .
Mr. Jonathan Gokah made this call at the two-day National Workshop & CSOs Training on Gender &Social Inclusion in GCF Processes in Ghana organized by KASA Initiative with support from Care, GERMAN WATCH and Federal Ministry for the Environment, Nature Conservation and Nuclear Safety through the International Climate Initiative (ICI).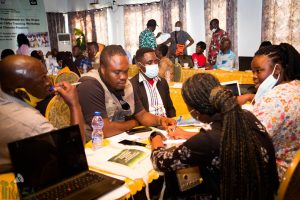 The workshop held in Accra was to enhance the capacities of Civil Society Organisations (CSOs) towards increased accountability and transparency of national authorities and implementing actors of the Green Climate fund (GCF) activities through participatory, monitoring and evaluation.
Speaking on the purpose of the forum, he explained that, "the main focus on the capacity building forum is to equip CSOs to enable them monitor implementation of gender action plans of GCF projects that has been implemented in Ghana "
Adding that, it is expected that participants at the forum who happens to be cited or located where these projects are located are able to get closer to the implementation arrangements of these projects and monitor indicators that will help them report as part of the project on implementation of the various gender action plan of the GCF project.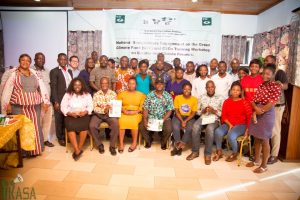 "We expose them, build their capacity and they are able to identify within these projects the indicators that needs to be recorded as part of implementation", he stressed.
On the way forward, Mr. Gokah noted that, it is time more women are brought on board at the grassroots level to advocate on climate change and gender issues as well be part of the decision-making and implementation processes.
Explaining that, capacity building is not an event but a process and it needs to be ongoing citing decision-making and implementation of these projects.
For the Civil Societies Organisations (CSOs) he indicated that, "since they have been able to distill the various gender action plans of the project being implemented under GCF ,they will be able to get to site with them and monitor as part of the plan".
The gender action plan will be able to track all indicators and look out for them when the is implemented.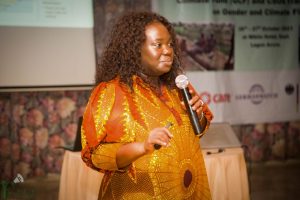 To enhance this course, he revealed that, the team will be going to Northern Region especially Tamale to narrow and engage CSOs over there more on the share landscape project implemented by forest commission and other CSO in that part of the country because it is a GCF project .
"The gender action plan will be able to track all indicators and look out for them when the is implemented" he said.
Adding his voice, the Program coordinator of Care international Ghana Yakubu Zakariyaa explained that, the workshop is to ensure that, civil societies are ready for the Green Climate Fund (GCF) project hence prepare and build these CSOs capacity to participate in all GCF processes.
According to him this "initiative will support Civil Societies Organizations (CSOs) so that they can engage in the way our natural resources are managed in Ghana including issues around climate change and how we can support government to ensure that climate actions are benefiting the venerable".
Furthermore to also understand how much money Ghana has received so far, what are the various projects that Ghana has received money for and also how can civil societies monitor the implementation of these projects.
In addition ,to share information among groups to agree on how to work with stakeholders to implement the project.
"Therefore this will increase our Stakeholders capacity to understand the gender requirement in GCF process and how we can understand it to be able to support the process", he acknowledged.
On Gender & Social Inclusion, he stated that, the workshop aims to increase Stakeholders capacity to understand the gender requirement in GCF process and how they can understand it to be able to support the process.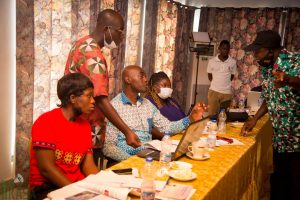 The Green Climate Fund (GCF) is the world's largest climate fund mandated to support developing countries raise and realize their Nationally Determined Contributions (NDC)ambitions towards low-emission, climate-resilient development pathways.
Africa despite it's low contribution to greenhouse gas emissions, remains the most vulnerable continent to climate change impacts.
Africa is a region which the GCF has a major focus, and had started to allocate substantial financial commitments to projects and programmes that are expected to be transformative.
GCF was established in 2010 as an operating entity of financial mechanism of the United Nations Framework Convention on climate change designed to disburse new and additional resources for addressing climate change.
Ghana became a GCF-ready country in 2015 when it applied for the Ministry of Finance (MOF) to become a National Designated Authority (NDA) whiles in the same year, the country signed on to the Paris Agreement which was later ratified in 2016.
Source: www.thenewindependentonline.com