MoFA receives Gh¢10,000.00 from Newage Agric Solutions Ltd towards farmers day
Report by: Ben LARYEA
The Ministry of Food and Agriculture (MoFA) has received a cheque of 10,000.00 from Newage Agric Solutions Limited, dealers in Agriculture inputs and services at a ceremony in Accra.
The gesture forms part of the company's commitment to support this year's farmers day to be held at Cape Coast in the Central region under the theme "Planting for Food and Jobs: Consolidating Food Systems in Ghana".
Presenting a dummy cheque, the Supply Chain and Logistics Manager, Mr. Edwin Narter said the company engages in farming activities and agric inputs hence management finds it prudent to contribute to the needs of farmers across the country.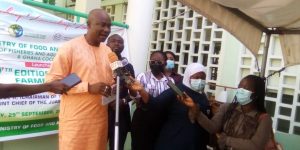 According to him, the company saw the need to contribute their quota to the growth and development of the farmers day celebration since farmers form the backbone of the economy.
Receiving the cheque, the Deputy Minister for Agriculture, Mr. Mohammed Hardi Tuferu said plans are far advanced to celebrate the 37th edition of the farmers day saying the ministry recognizes the immense role farmers have contributed to the food security of the country therefore they must be honoured and awarded for their tireless efforts.
"Government flagship programme in agriculture 'Planting for Food and Jobs' have made tremendous progress in the food value chain", he explained.
He further added that government have rolled out other initiatives in the agriculture space to meet the food consumption of the citizenry as well as incentives to entice the youth to venture in agric farming.
The Deputy Minister urged corporate bodies to support the farmer's day celebration and called on others to emulate the shining example of Newage Agric Solutions Ltd.
He therefore commended the media for unflinching reportage towards food sovereignty and security of the country and other related agricultural activities.
The 2021 farmers day celebration which is the 37th in the series is organised under the auspices of Ministry of Food and Agriculture in collaboration with Ministry of Fisheries and Aquaculture Development and Ghana Cocoa board.
Source: www.thenewindependentonline.com