Report by: Ishmael Barfi
After a visit to the school by a team from Vanmoorhouse Foundation (VMF) at the beginning of 2021 revealed that, pupils were sitting on the floor due to having limited number of desks/chairs available for learning.
To that effect, VMF promised to ensure pupils of Asikam Presby Primary School in the East Akim Municipal District in Eastern Region, have enough desks, hence ensuring that every pupil in the school has a seat to study.
To fulfil it's promise, VMF presented the first phase of the dual desks to the school for the lower primary in the month of October 2021
and finally, has completed the second phase to the upper primary at the beginning of January 2022.
The Van Moorhouse Foundation (VMF) is a non-profit UK based organization with branches in Ghana and the US.
This foundation was established to enhance, improve, and promote a better life for vulnerable individuals and families living in impoverished communities across Ghana .
In Attendance at the donation were the Director of Programs and Administrator of the foundation, Dr Osbon Sarfo, volunteers of the foundation, the assembly man of Asikam Village, Hon.Gideon Ofori Boateng), the chief of the community (Osaberimah Asante Owusu Adiome),
The rest are Kontihene (Baafo Koranteng, the PTA Chairman (Mr Kingsley Appiah Labi), the Headmistress, Madam Gifty Korkor Tawiah and staff of the school.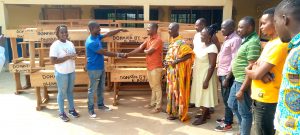 Making the presentation of the desks on behalf of Van Moorhouse Foundation to the school, the Director of Programs and Administrator of the foundation, Dr Osbon Sarfo called on the pupils to ensure that they are always in school.
Stressing, "No longer will they have to carry stools and chairs from their house to school, or sit on the floors, because they now have enough desks to sit on and learn in the classroom".
The donation he noted will help improve learning, believing that, if a solid foundation is laid down for children, they can grow up to become meaningful and prominent people in the society".
Representing the Headmistress, Madam Gifty Korkor Tawiah Mr. Owusu Boateng expressed the school gratitude to the management and executives of the foundation for such an important gesture.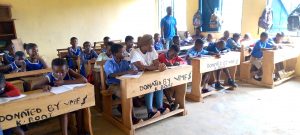 Indicating that the VMF gesture will go a long way to improve the learning condition of the pupils as well supporting the teachers in delivering education during learning periods.
He acknowledged the Foundations tireless efforts to promote quality education and its commitment towards Asikam Presby Primary School.
The charity thanked its dedicated and selfless volunteers, and the entire VMF family and its supporters for their kindness, this dualdesk project could not have been made possible without their donations.
Source: www.thenewindependentonline.com