Report by: Ishmael Barfi
In efforts to ensure babies born pre-maturity gets the needed medical care and support, a Non-Governmental organization,, Little Big Souls have paid the Kangaroo Mother's Center of the Neo-intensive critical Unit(NICU) of the Effia Nkwanta Hospital a visit as well as donated some babies items to mothers' of babies on admission.
According to the Co-founder of the organisation, Edith Uyovbukerhi, there is the need for pre-mature babies and their mothers given special medical attention and support to enable them to ensure the wellbeing and growth of their pre-mature babies.
Sharing her experience, Madam Uyovbukerhi explained that, it is a bad experience to loose a baby born before the expected time due to inadequate medical logistics, staff and care at a hospital describing it 'a needless death'.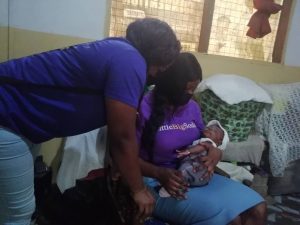 This experience she recounted led to establishment of the organisation, Little Big Souls in memory of her child's name to bring hope and life to others.
Little Big Souls founded by Uyovbukerhi and her lawyer sister Chief Mrs. Yvonne-frances Igweh is a charity recognised by the World Health Organisation (WHO) that works to improve outcomes for premature babies in five African countries: Ghana, Nigeria, South Africa, Guinea and Zimbabwe.
Prematurity is the leading cause of death in children under age five with about 1 million babies – more than one in every ten – dying every year.
The WHO suggests that half of premature deaths in low income settings are due to a lack of mostly basic care such as provision of warmth, breastfeeding support, care for infections, and the more advanced care in handling breathing difficulty whiles nearly all premature babies survive in developed health systems though.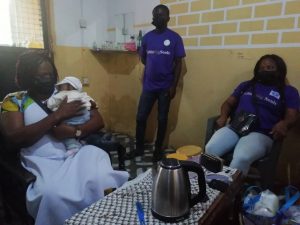 In fulfillment, Edith Uyovbukerhi found a way to turn a moment of great despair 13 years ago into an opportunity to bring hope and goodness to the world.
And the Neo-intensive Critical Unit (NICU) of Effia Nkwanta Hospital located in the Takoradi metropolis in the Western Region is a beneficiary hospital of Little Big Souls support.
The Charity organisation on 24th February, 2022 donated some diapers and babies' cups to mothers who have babies on admission at the Unit.
The donation, Madam Edith Uyovbukerhi indicated is to cushion mother's since diapers for these babies are difficult to get on the market due to the babies 'tiny' body.
She added that, the babies cups is to help the pre-mature babies to regulate their body temperature and as well as protect their heads from any injury since they are soft and delicate.
Madam Edith Uyovbukerhi said, the diapers donated worth thousand Ghana cedis whiles the babies cups where donated by a philanthropist who supports the works of Little Big Souls.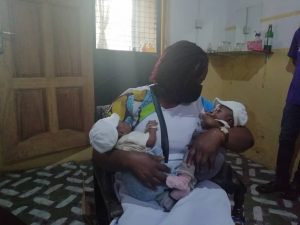 Touching on the organisation developmental projects, she revealed that, their visit of the Effia Nkwanta Hospital is to conduct needs assessment of the Kangaroo Mother's Center under the Neo-intensive Care Unit of the hospital.
The needs assessment he explained is to enable the organisation to know immediate wants and needs of the Center to ensure the wellbeing of pre-mature babies and their mothers.
"We plan to renovate the Kangaroo Mother's Center (KMC) of the Unit, donate equipment hopefully by the close of April this year", she stressed.
Revealing that, the Charity organization has helped to renovate the KMCs' of Tarkwa and Tema General hospitals respectively.
She further added that, Little Big Souls would continue to provide these Units with the needed support to ensure safety and wellbeing of pre-mature babies and their mothers.
Uyovbukerhi was an expectant mother on holiday in Ghana in the year 2003 when she suddenly had to deliver her third child, Tejie, who was born premature (weeks before the usual nine months gestation) lived only three weeks before passing away.
Uyovbukerhi describes the death as "truly avoidable, if there had been extra resources".
The hospital she'd chosen didn't have enough nursing staff in its maternity ward to ensure proper care for all the babies.
Source: www.thenewindependentonline.com