Report by:Ishmael Barfi
The President of the Republic of Ghana, H.E Nana Addo Dankwa Akufo-Addo has called on both Ghanaians and residents of the country to support this year's edition of Green Ghana Day.
H.E Akufo-Addo made this call whilst addressing the populace during the launch of this year's Green Ghana Day at the Accra International Conference Centre on Tuesday, 1st March, 2022.
The 2022 edition of Green Ghana Day is slated for June 10, 2022 on the theme; "Mobilising for a Greener Future".
In his address, the President noted that" forests continue to be one of the most important natural resources for our socio- economic development, especially for developing countries like ours, providing sources of livelihood to many and returns from export on wood species.
He revealed that in 2021, almost one million Ghana cedis (GHS1,000,000,000.00) was generated from the export of wood.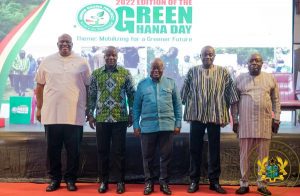 Also that the United Nations Food and Agriculture Organization (FAO) reports show that between 1990 and 2020 the world lost over one hundred and seventy-eight million hectares (178,000,000ha) of forest, almost the size of Libya.
While there has been some improvement in the net rate of global forest loss over the last decade, Africa continues consistently to experience an increasing net forest loss.
Therefore, we must make concerted efforts to protect our forests for the benefit of current and future generations.
He noted that, apart from their economic benefits, forests are necessary for our own survival and the survival of our planet.
Therefore one must be passionate and committed to the fight against climate change.
"The fight against climate change must also be a fight against deforestation and forest degradation", he stressed.
In line with this, the launch of the Green Ghana project is part of an aggressive afforestation and reforestation programme.
Further more, its "also in line with our commitment under the United Nations Decade on Ecosystem Restoration (2021-2030) to prevent, halt and reverse the degradation of ecosystems and raise awareness of the importance of successful ecosystem restoration", President Akuffo-Addo said.
The President further revealed that, with the support of the populace government exceeded Target of five million (5,000,000) trees on madien Green Ghana Day.
Thus this year, government is committed to plant twenty million (20,000,0000) trees on Green Ghana Day.
This requires that we "moblise our entire population to ensure that each Ghanaian and each foreigner living in Ghana plants at least one tree on that day".
He revealed that, "Article 41(K) of our National Constitution imposes a duty on every citizen to protect and safe gaurd the environment".
This is one of the ways of fulfilling this constitutional obligation and we must all make it a point to participate in this national exercise, he said.
Indicating that, this noble venture ought to be funded and executed through our collective efforts and as much as possible without burdening the public treasury.
"We can do it and I call on all Ghanaians and residents of Ghana to contribute in diverse ways in this Godly endeavor.. let us support the initiative and let us go out on June 10 to plant and nurture our trees for posterity", he concluded.
On his part, Hon. Samuel A. Jinapor,Minister for Lands and Natural Resources, further revealed that over eight million hectares (8,000,000 ha) of forest cover have been lost since 1900.
However, from 2017 to the end of third quarter of 2021 a total of four hundred and seventy-seven thousand, four hundred and eighty five point five hectares(477.485.5ha) of forest have been cultivated under the Ghana Forest Plantation Strategy through various programmes undertaken by government, the Private sector and civil society organizations.
He noted that "this year's Green Ghana Day will witness planting of trees on degraded forest lands, reserves, watersheds, boundaries, office compounds, and sites within communities including parks, roadsides, homes, farmsheads, churches,mosques and schools.
The Ministry of Lands and Natural Resources will collaborate with the Environmental Protection Agency, the Department of Parks and Gardens and all relevant government ministries, departments and agencies to make the event successful.
" Planting twenty million trees is very ambitious and will require a lot of resources. In the coming days we will be coming to you for your support and it is our hope that you will contribute to this noble cause", he pleaded.
Source: www.thenewindependentonline.com