Report by: Ishmael Barfi
Accra-Ghana had officially been enlisted as the 7th Ubuntu Hub City for African Human Rights Defenders on the continent.
The official launch on Tuesday, 22nd March, 2022 at Holiday Inn, Accra brought key players and stakeholders in the human rights sector in Africa.
The realization of the 7th Ubuntu Hub City for Human Rights Defenders was as a result of effective collaboration  between The African Human Rights Defenders, a Pan-African Human Rights Defenders Network  and Gender Centre for Empowering Development (GenCED).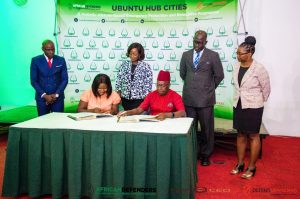 Gender Centre for Empowering Development (GenCED) is the implementing partner, hence the local representative to see to the smooth implementation and sustainability of the Ubuntu Hub City for Human Rights Defenders in Ghana and Africa at large.
The initiative thus " 7th Ubuntu Hub City for African Defenders at risk, is aimed at providing at-risk African Human Right Defenders (HRDs) with option for safe internal and external temporary relocation without having to leave their home continent.
Speaking at the Ubuntu Hub City for Human Rights Defenders official launch, the Chairperson of African Defenders,Mr. Hassan Shire revealed that,the city Accra was chosen based on its democratic credentials and practice of rule of law, hence the peace Ghana enjoys.
In addition, the selection of Accra, the capital city of Ghana as Ubuntu Hub Cities Initiative, he noted was to prove and disabuse the notion that human rights defenders can only be safe outside the continent.
Stressing that, human rights defenders can also be safe and protected on the continent, hence the choice Accra, Ghana.
"We are saying African Human Rights Defenders can be culturally, socially and physically hosted by another African country", Mr. Shire emphasized.
The Chairperson used the official launch to commend and thank the government of Ghana for creating a conducive environment for African Human Rights Defenders (HRDs) to be hosted in Accra.
"Accra we have come here with our key and I am grateful to the government and people of Ghana", he stated.
The Executive Director for GenCED, Madam Esther Tawiah on her part  was of the view that, in most African countries, it is difficult to speak truth to power.
This she said is due to the risks it comes with but believes that, the establishment of the Ubuntu cities initiative in Accra would curtail these bottlenecks.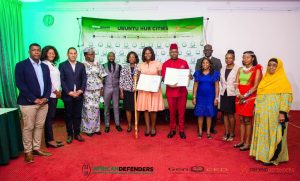 The objective  of GenCED she explained is to support HRDs who speak truth to power and are fighting for social justice and human rights in their various countries, hence lives at risk.
As the implementing partner and local representative,  she said GenCED is to ensure that the needs of the HRDs are provided with their security assured.
"We need to make sure if you are here and you need socio-psycho services, we need to provide it", Madam Tawiah reteriated.
Indicating that, it would be their sole responsibility  with support from other stakeholders to support any Human Rights Defender either a Ghanaian or not.
"Even if you are not a Ghanaian and you are coming in, we need to support you with immigration. We need to let you understand the laws so you operate within the laws of the country", she emphasized.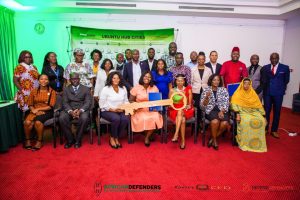 Adding that, it would be also be their responsibility to integrate the HRDs into the community and ensure they continue with their human rights activism without any limitation.
"so we have a huge responsibility to make sure that they are safe; they are protected and work within the confines of the law", she noted.
Gracing the official launch, an official of the Commission on Human Rights & Administrative Justice (CHRAJ) Madam Adjeley Martey assured GenCED of CHRAJ's commitment to support the Ubuntu Cities Hub in Accra as its objective is in line with the mandate of the Commission.
Defending human rights she stressed is not a crime therefore the defenders of human rights must be protected to attain their full potential in life through effective and efficient protection.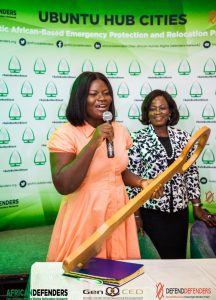 A key to symbolize the opening of Accra, the capital city of Ghana for Ubuntu Hub City for Human Rights Defenders was presented to the Executive Director of Gender Centre for Empowering Development, GenCED, Madam Esther Tawiah after the two organisations signed the Memorandum Of Understanding (MOU).
Other key stakeholders present at the official launch gave their unflinching support to GenCED to ensure this initiative serve it's purpose of establishment in Accra, Ghana.
Source: www.thenewindependentonline.com