Report by: Ishmael Barfi
According to the Deputy Minister for Food and Agriculture, Hon. Alhaji Mohammed Hardi Tufferu, the use of digitalization in the agriculture sector has become an integral part of everyday lives, and the continuous reliance on the digital tools and technologies by people and nation around the world has become conspicuous over a time.
To him, reliance on Information, Communication and Technology (ICT) and digital tools has led to immeasurable opportunities for the agriculture sector and it's stakeholders.
Acknowledging that, agriculture helps to reduce poverty, raise incomes as well as improve food security for 80%0of world's poor, who live in rural areas and work mainly in farming.
The Deputy Minister for Food and Agriculture, Alhaji Mohammed Hardi Tuferu made these assertions at the formal launch of the E-Extension Strategy for the Ministry of Food and Agriculture on March 24, 2022 in Accra.
The E-Extension Strategy is in partnership with Farm Radio International and Ministry o Good and Agriculture and financial supported by the Global Affairs Canada.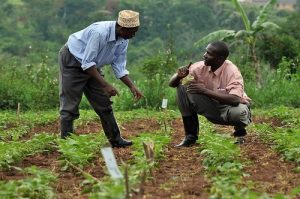 The Extension Strategy is create a multi-stakeholders, people-centred, cross-sectored platform that will bring together stakeholders representing relevant constituencies that would result in agriculture modernization and as well as increase agricultural production and productivity.
And to also provide sustainable agriculture and thriving agribusiness through research and technology development, effective extension and other support services to farmers, processors and traders for improved livelihood.
Launching the E-Extension Strategy for the Ministry of Food and Agriculture, Hon. Alhaji Mohammed Hardi Tuferu explained that, the advent of COVID-19 pandemic and its associated containment measures demonstrated how increasingly extension and advisory services to is important.
"This meant the need to re-orient extension and advisory services to take advantage of ICT to complement the traditional methods of extension", he said.
The reliance on ICT and digital tools he asserted had led to immeasurable opportunities in the agriculture sector and its stakeholders.
Electronic agriculture thus e-agriculture has evolved in many countries in Africa, that helps improve agriculture extension and agricultural advisory services.
To that effect, the Deputy Minister congratulated the Directorate of Agricultural Extension Services for taking the bold step with huge support from the Global Affairs Canada (GAC) under the Modernizing Agriculture in Ghana program to develop an E-Extension Strategy and plan.
Indicating that, global experts in the agricultural sector have consistently reiterated the critical role of digital tools in modernizing Agriculture, improving productivity through extension services and for the overall development of the national and rural economy.
And given the current challenges in the sector, Hon. Alhaji Mohammed Hardi Tuferu noted that, there is a strong justification for E-Extension Strategy and plan.
"For instance, the extension officer to farmer ratio stands at 1:706 as compared to FAO standard of 1:500", he bemoaned.
However, with the recruitment of 2,700 extension officers and the provision of motorbikes and vehicles under the Modernizing Agriculture in Ghana (MAG) Programme, Extension Services he noted has become attractive and empowered to deliver agricultural services to its clients.
The growing of ICT space he noted is having a positive impact in the agricultural sector, especially where the tools are problem-solving and result-oriented.
Admitting that, ICTs have largely been used to connect even rural farming communities to relevant services ranging from weather alerts, agronomic practices, agribusiness as well as banking among others towards improving productivity, job creation, livelihoods, and decision-making at multiple levels in the sector, among others.
Therefore, the Deputy Minister for Food and Agriculture, Alhaji Mohammed Hardi Tuferu called for public and private partnership towards the implementation and fulfilment of the Strategy.
This he said will help drive growth of the sector by improving farmers' decision-making as well as improve policy implementation, strengthening ICT systems, designing the right contents and messaged for extension delivery, piloting and learning.
On her part, Miss Candace Holt of the Global Affairs Canada, commended the consultation and collaboration that led to the development of the E-Extension Strategy accompanied by an Implementation Plan.
To her, this is an important practice to ensure sustainability hence ensuring that, staff are aware of and understand the Strategy and to ensure continued attention to developing and maintaining e-extension services.
She admitted that, the Strategy and Action Plan present an excellent opportunity in several respects such as improving communication and coordination among key departments, directorates and staff in the agriculture sector, increasing digital skills and knowledge.
The rest are engaging with Non-Governmental partners active in agriculture extension, including the private sector and CSOs and reaching more small-holder farmers with timely and useful information.
She revealed that, her outfit sees the use of agriculture extension to enhance agriculture and wellbeing of farmers especially small-scale farmers in the rural areas e across the country.
And through the Modernizing Agriculture in Ghana project, Canada she reiterated is supporting the relevant institutions of the Government of Ghana to respond to the specific needs of women farmers.
"From the Canadian perspective, it is extremely important to us to see agriculture extension services that are accessible and geared towards supporting women and men farmers alike", she noted.
Miss Candace Holt emphasized on the importance of continued efforts to build a strong Monitoring and Evaluation (M&E) framework to support the E-Extension Strategy.
Source: www.thenewindependentonline.com