Report by: Ishmael Barfi
Foundation for Security and Development in Africa (FOSDA) has called for more involvement of youth with disability in decision-making at all levels to ensure issues relating to their development and welfare are addressed.
According to FOSDA, currently engagement of youth with disability is minimal explaining that, where they are mobilized, it is for the purpose of service provision.
Furthermore youth with disability should be an integral part at all levels especially at the District level, believing that, when that is done, youth with disability would also contribute to the development of the country.
This was made known at a Sensitization workshop on Youth with Disability inclusion in Decision-making process.
The Workshop held on Tuesday, 29 March, 2022, at Sunlodge Hotel in Accra brought together twenty (20) Civil Society Organizations (CSOs) in youth Development and other relevant state institutions.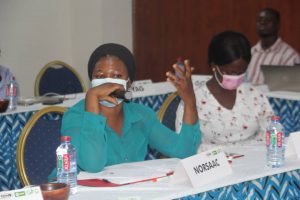 The aim of the workshop was to ensure that, more youth focused CSOs are sensitized on issues of youth with disability in their planning and programming, also to ensure that, policy makers take steps to address the challenges facing youth with disability in the country.
Speaking at the workshop, Ali Ibraheem, Program Officer at FOSDA explained that, young people lack space to participate meaningfully and equally in decision-making process at the respective levels of governance in the country.
"Being both young and having any form of disability, renders such a young person even more marginalized and often denied their right to have their voices heard, taken seriously, and recognized", he bemoaned.
Though Ghana have signed numerous Treaties and Conventions relating to the protection, development and wellbeing of people with Disability, little has been done.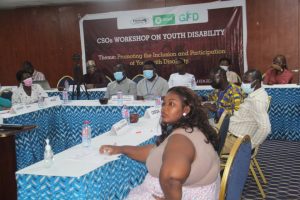 The weak enforcement of the several anti-discriminatory legal provisions put in place to protect the rights and dignity of persons with disability is worrying and disturbing as a country that champion inclusiveness.
Interestingly, Article 12(2) of the 1992 Constitution of the Republic of Ghana guarantees the fundamental human rights and freedoms of the individual including persons with disability (PWD) whiles Article 29 of the Constitution spells out the rights of PWD.
Disability are a segment of society who are at greater side of poverty and inequality all over the world because people in power and authority usually undermines their capability and only see them as people who only need social welfare.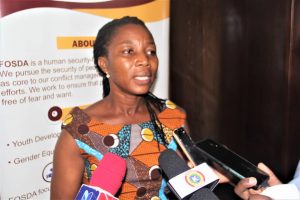 According to the Programs officer at FOSDA, ALI abraheem, the political space in Ghana as well as the civic space in civil society organisations and networks have not sufficiently adapted to the fact that youth, and especially youth with disability have the capacity to meaningfully contribute to policy discourse and implementation.
Touching on the research conducted by the Foundation for Security and Development in Africa, (FOSDA), he revealed that, the the team uncovered high levels of marginalisation of youth with disability at all levels.
Speaking with passion, Ali Abraheem therefore called on state institutions, policy makers and relevant stakeholders to ensure that, the National Disability Policy formulated in 2000 and the Disability Act (Act 715) enacted in 2006 serves it purpose, hence championing the inclusion of person with disability especially the youth at all levels of decision-making in the country.
"it is crucial that some of these issues are given visibility and brought to the attention of policy makers urgently minimise the plight of youth with disability", he added.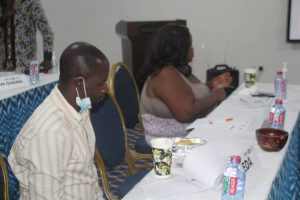 Presenting the findings of the project, Solomon Okai, Research and Program Officer revealed that, though Ghana has good and well outlined policies and laws relating to the inclusion of people with disability especially the youth, implementation of these laws and enforcement is hampering the efforts and contributions of stakeholders in ensuring the development and wellbeing of people with disability.
"Ghana signed the United Nations (UN) Convention on the Rights of People with Disability in 2007 and ratified it in 2012 to be one the 119th country in the world to do so and the 32nd in Africa", he acknowledged.
Out of approximately one billion individuals worldwide with types of disabilities, 190 million face substantial challenges in carrying out their regular tasks.
And in Ghana, People with Disability (PWD) accounts for three percent (3%) of the total population.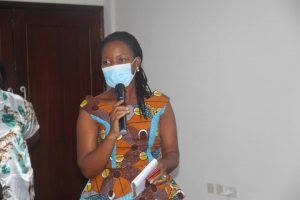 People with Disability he indicated are confronted daily with several challenges that transcend different aspect of their lives citing health, education, economic and social protection.
During the collection of data, he explained that, 6 regional youth networks engaged the Ghana Federation of Disability (GFD) regional branches whiles four regional Youth Networks from Ashanti, Greater Accra, Oti, Volta and Upper West Regions held meetings with leadership of GFD the youth with disability fraternity and other NGOs working with young people with disability in the regions.
Some of the challenges identified on the field Mr. Solomon Okai said difficulty in accessing PWDs and youth with disability in the various region due to lack of proper and accurate data.
The rest he noted are flexibility in movement is a serious barrier to YPWD participation and representation in the activities of the Regional Youth Networks.
In conclusion, Mr. Solomon Okai stressed on the need to tap into those who have made it to the top who can equally serve as a role models to mentor others especially Young People Wth Disability (YPWD).
In an interview with the press at the workshop, the acting Executive Director of FOSDA, Miss. Theodora Anti acknowledged that it is against this backdrop that, FOSDA in partnership Oxfam seeks to mobilise more youth focused CSOs around the issues of young people with disability and to enhance their sensitivity to their plights especially in programming.
On the way forward, she revealed that FOSDA would hold meeting with relevant policy makers to bring some of the issues identified to their attention.
"It is the vision of FOSDA and Oxfam to ensure that all Youth Focused NGOs peruses the inclusive development agenda starting with their internal policies and programs which is coined from the UN SDG principle, "leaving no one behind".
Foundation for Security and Development in Africa (FOSDA) is a human security focused organization that works to minimize and mitigate the drivers of human security such as poverty, youth unemployment, inequality, gender inequality, bad governance through advocacy, research, policy influencing, capacity building of marginalized groups such as women and youth.
Source: www.thenewindependentonline.com