Story by: Ishmael Barfi & Magdalene Duncan
The Strategic Youth Network For Development (SYND) has held a 2-day hybrid workshop on climate change to sensitize and educate young people who are at the forefront of climate change fight.
The two day hybrid workshop held on 13th to 14th of April, 2022 in Accra brought climate change activists especially young people from vsrious part of the country.
The two day workshop, 13th to 14th April, 2022 held in Accra was sponsored by 350 Africa. Org, The World Bank, Africa Climate Reality Project, Gower St and SLYCAN TRUST.
And brought together young climate activists and entrepreneurs from across the country to take a critical look at areas of Green cooling, Article 6 and Action for Climate Empowerment (ACE).
In his opening address, the Executive Coordinator of SYND, Mr Chibeze Ezekiel was of the view that even though young people are vulnerable to climate change, they have a choice to become change agents in the fight against climate change.
Indicating that, SYND with its partners organized the workshop to give young people the platform to speak out and as well as understand challenges, appreciate them and work towards attaining a clean and green environment.
The passionate Executive Coordinator further stated that, "we  want young people to be fully involved in the process at all levels; from the planning process, benediction process, evaluation and monitoring, so that the voices of young people can also be heard".
Adding "We are shifting from the era of planning for young people to planning with young people because we don't want them to decide for us but they must also decide with young people".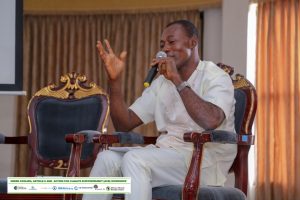 This he said means  "they must take into consideration the proposals, voices and concerns of young people".
In developing their policies, he emphasized that, the views of young people has to be captured in the process, therefore "we want to create our own future or the kind of world that we want to have by say 2030 or 2050″.
The two-day workshop he explained intends to create an avenue for young entrepreneurs to get necessary support they need.
Showing interest in young people contribution towards the climate change fight, present at the workshop was the former Member of Parliament (MP) for Zebilla Constituency in the Upper East Region, Hon. Frank Adongo.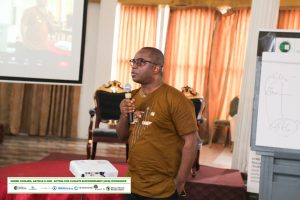 Hon. Frank Adongo who is also a former Deputy Minister urged participants to take advantage of government initiative of planting trees to plant more trees."
Pointing out that, to address the climate change menace, there is the need to plant at least one tree every year stressing, "not just plant but grow trees; ensure that the trees planted are nested".
On the issue of Green cooling, Ms. Paulynn Pappoe, the Programme Assistant, Climate Change and Ozone Unit of environmental Protection Agency (EPA) identified the refrigeration and Air conditioning sector as the main contributors of Green house gases in Ghana.
Explaining that some electrical appliances have low energy efficiency and also high levels of Ozone depleting substances.
Green cooling she explained aims at reducing these emissions and therefore advocated the use of natural refrigerators to help maximise energy efficiency as the commonly used ones have high levels of global warming potentials.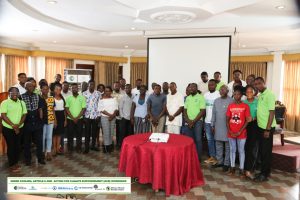 The Green Cooling project  she noted has seen two phases in Ghana; the first phase was from 2016-2018 whiles the second started from 2018-2021.
With regards to the above,she revealed that, Ghana as a country is just wrapping up in 2022 due to some delays.
Ghana she noted is aimed to replace the use of R22 Acs with R290 Acs explaining that, R22s have high ozone depleting substances and hopes to face out the use of all HFC/HCFC refrigerators by 2030.
Speaking to issues relating to climate change, Dr Emmanuel Techie- Obeng, Deputy Director of Climate Change Unit, EPA in a later development revealed that though Ghana has documentations and policies on climate change, the main problem is with implementation of these policies.
Attributing this to inadequate funding from donors and government stressing that, "Funding has been our main problem when it comes to implementation".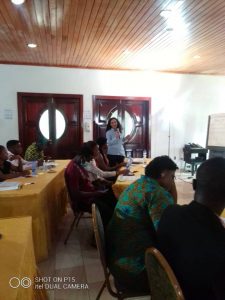 He revealed that, Ghana's Green Climate Fund as at last year raised 105 million US dollars which helped in other places.
But was quick to add that, as a country, "we till need 2 billion to implement the action because what we have is just nothing to be compared to."
Against this background, Dr Techie- Obeng congratulated the youth for their involvement in the fight against climate change.
" Over the years young people,  civil societies are growing and it's a life long climate intervention because if they learn more about climate change it becomes part of them as they are the future leaders and the ones that will solve future climate change issues".
He therefore urged Ghanaians to take note of changes in climate for Climate Change is real.
"We need to change our behavior and attitudes; we should inculcate activities that will make our atmosphere cool, planting trees to create micro climate."
He further encouraged Ghanaians to take advantage of government solar home systems project to buy their own solar panels and generate their own electricity.
He further revealed that from May 2022 to May 2024, Ghana will be holding the baton as the world leader for climate vulnerable countries.
Source: www.thenewindependentonline.com