Story by: Ishmael Barfi
For the Africa Continent to develop, the  Founder and Executive Director for POS Foundation, Mr. Jonathan Osei Owusu has emphatically indicated the need for continent to concentrate on economic emancipation especially small trade businesses.
POS Foundation is a leading Human Rights, Justice, Policy and Humanitarian Based CSO in Ghana, with over 15 years experience in the CSO field.
And Mr. Jonathan Osei Owusu is known for his expertise and innovation in Policy Reform, Criminal Justice and Human Rights advocacy.
Speaking in an interview after the opening ceremony of a joint Sub-Regional Workshop on promotion of Cross Boarder Trade, Rule of law and the use of Technology in West Africa in Accra.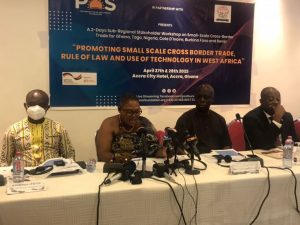 The workshop was a partnership between POS Foundation and Ghana International Trade Commission with funding from GIZ.
The two day workshop saw participants from six neighbouring countries namely Togo, Benein, Nigeria, Burkina Faso, Cote D'Ivoire and Ghana comprising of members of Immigration, Customs, Probono lawyers, Human Rights Advocates, and Paralegals.
The workshop was to provide a   common platform for discussions within the cross boarders and to also holistically as a block, develop findings, solutions or recommendations for ECOWAS to be understand and appreciate the need to ensure effective cross border small scale trade among member countries.
According to Mr. Osei, participants are to find a solution as to how to facilitate trade among West African countries and to take away, the impediments that women and other people face when crossing boarders with goods and services.
"Everytime, we are talking about issues of poverty, issues of human rights abuse. If we are going to be able to curtail some of this things", he stressed.
Adding that, "We must also concentrate on trade, how to improve trade among ourselves, produce and be used by our own people so that, funds and monies can stay within our continent".
With regards to statistics, he disclosed that,  West Africans trade more with the Asians, the Europeans and Americans than they trade among themselves therefore alerted that, if West Africans continue to produce and trade among people who are not within the continent, they would take both the production and profits away.
He further pointed out that, the workshop seeks to look for a system where communication between West Africa countries would be the same.
Suggesting "A tracking system where we can track those from Nigeria, those in the transit to countries like Benni and Togo would see and track and know the content before getting to the boarder".
Indicating that, that is where the African continent would be doing trade because, "we are aware that, trucks that plies in the road from Nigeria to Burkina Faso spent three weeks instead of three days, contributed to cost incurred in operation and sent back to consumers to make trade difficult".
Mr. Jonathan Osei Owusu therefore used the occasion to call on neighbouring countries to ensure a smooth and transparent procedures at the borders to enhance cross- border trade on the continent.