Story by: Ishmael Barfi
One of the lottery company in Ghana, RAND Lottery Limited has officially outdoor three (3) new modern technology lottery draw machines comprises.
The newly outdoor modern technology lottery draw machines on Thursday, 28th April, 2022 in Accra comprises of  RAND Multi, RAND Golden Souvenir and RAND Star, to add up to the already existing ones at the company's disposal.
RAND lottery company, a licensed lottery company registered under the Laws of Ghana and the National Lottery Authority (NLA)have been operating across the country for the past 6 years, giving employment opportunities to thousands of Ghanaians and revenue to Government.
RAND is an acronym of four (4) friends namely; Rashid, Amoaneng, Noah and Daniel who have put their respective resources together as partners with the sole aim of becoming, the number one private lottery operator with transparency and trust as their Hallmark.
The operations of RAND Lottery starts with RAND Multi on Mondays ; RAND Golden Souvenir on Tuesdays; RAND Super Magic on Wednesdays; RAND Metro on Thursdays; RAND Super 4 Vitality on Fridays; RAND Samedi Soir on Saturdays and RAND Star on Sundays.
Speaking in an interview, one of the Directors of RAND Lottery Limited, Mr. Noah Afonope averred that, in every endeavor, you need transparency, hence RAND lottery.
He said, the new modem technology machines would create an opportunity for lottery fans see the numbers clearly, hence transparency and confidence adding that, RAND Lottery is licensed also to run national lottery.
In an answer to the question of lottery being evil, Mr. Afonope indicated that, "everyone and it's own believes and therefore, it depends on how you look at it and which angle you look at it".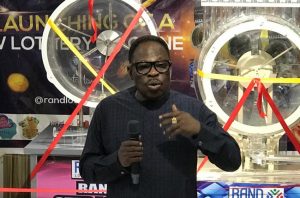 "To be honest, a certain gambling is not good. It is the same thing excessive drinking is not good, excessive eating is not good. So, when you are gambling wisely, I think it can not change anything", he concluded.
Source: www.thenewindependentonline.com