Story by: Ishmael Barfi
Banks and financial institutions have been urged to integrate Biodiversity Policies into their bank Policies. This appeal was made by Mr Reginald Asare, an Environmental and Social Governance Manager at NIB.
Speaking in an interview with the media at the just ended Dialogue on Bank and Biodiversity No Go Policy organised by Strategic Youth Network Development (SYND) on 5th May, 2022. in Accra, Mr. Asare shared the view that banks have the capacity to use their finances to ensure that the environment is protected through credit screening and lending processes.
In their own way as stakeholders in the fight against climate change, Mr Asare indicated that, " Banks must set up policies that will guide them on steps to take.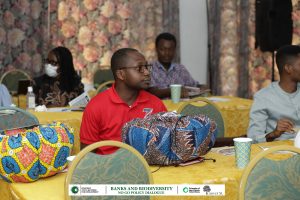 He further stressed that, policies and strategies should be in place, especially climate change policies must be aligned with bigger, broader national environmental policies.
Banks must integrate Biodiversity Policies into Bank Policies,take action plans and implement them.
When Banks are reviewing their annual or bi-annual corporate policies, they should ensure that they emerge theses Biodiversity Policies into Bank wide policies and translate that into action plans and strategies".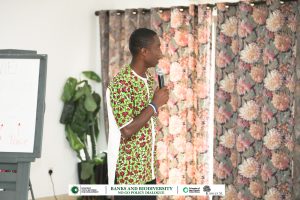 Further more that, "if the policies are there but it doesn't capture the Biodiversity aspects; the global Biodiversity initiatives in bank policies, you can't go any where".
Adding, "so the first step is to make sure that we integrate these Biodiversity No Go policies into the bank wide policies then draw your action plans and policies".
As part of it's efforts to promote positive climate change actions, SYND held the Banks and Biodiversity No Go Policy Campaign, an effort to educate Banks on their key role in protecting the environment.
According to Mr Chibeze Ezekiel, Executive Coordinator of SYND, this is because "we are aware that Banks give investments, loans , funding opportunities to corporations to do various projects.
"This campaign is to ensure that while the banks are giving out these investments, they'll help ensure that those projects don't have any adverse effects on the environment".
Therefore, "Banks should not fund any project that will affect the environment adversely or badly" , he appealed.
The Banks and Biodiversity No Go Policy Campaign was started by Friends of The Earth, USA and other global NGOs which SYND is a an active member.
It is a one year campaign that will involve the engagement of Banks to get their views on what they can do in their own small way as their contribution to environmental protection.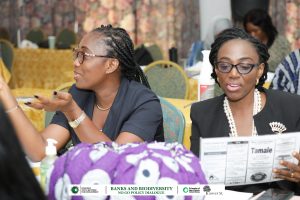 The next meeting is scheduled for 22 May, 2022, which is the Global Day of Diversity.
The Strategic Youth Network For Development (SYND) is a youth NGO dedicated to the fight against climate change.
Source: www.thenewindependentonline.com