Report by: Ben LARYEA
The Passion for Needy (PFN), Non-Governmental Organisation (NGO) as part of its celebration of its Founder's day have donated assorted food items to the HelpAged Ghana Social Centre at a ceremony at Osu, a suburb of Accra.
The items include bags of rice, bottles of cooking oil, boxes of canned fish, tomato, soft drinks, pastries, water and pieces of wax prints.
The food items were distributed to 240 elderly but needy people from the various zones of HelpAged Ghana in the Greater Accra Region.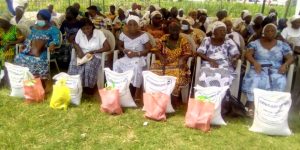 Presenting the items, the Chairperson of Passion for the Needy, Mrs. Janet Torgbor El-Aschkar said the gesture falls in line with the annual celebration on the calendar of the Church which acknowledge the contribution demonstrated by the Founder of the Synagogue Church of All Nationals (SCOAN) by the late Senior Prophet TB Joshua.
According to her, the donation is to further take into account the contributions made by individuals, organisations in supporting government's efforts to provide essential services to society.
"The NGO since its inception in the year 2009 have provided support to several individuals and organisations such as Osu, Teshie and Nungua Children's Homes, Christ Faith Forster Home at Frafraha, Accra Rehabilitation Centre, School for the Deaf and Blind, the Street Academy, YOA Foundation, Islamic Research Institute, La Boys and Girls Correctional Centre and Human Compassion Organisation.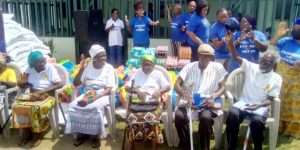 "The church believes that there are numerous of elderly persons facing economic challenges in the society hence the donation is our widow's mite to put a smile on the faces of these needy persons.
Receiving the items, the Administrator/Media Coordinator of HelpAged Ghana, Madam Ethel Boakye expressed her gratitude to Passion for Needy for the wonderful donation saying it was timely.
"The items will also be distributed to all those who could not make it to the event due to ill health or some pertinent challenges confronting them", she explained.
She therefore commended the NGO for their continuous support for the needy and the vulnerable in the society and urged other bodies to emulate the shining example of the NGO.
Source: www.theneeindependentonline.com