Story by: Ishmael Barfi
In efforts to ensure the welfare of children, the Catholic Church has embarked on the construction of an ultra modern children hospital at Kwabenya in the Ga East Municipality of the Greater Accra region.
The project will have a counseling, psychological, physiotherapy, cancer and a Unit for paediatric oncology research and estimated to cost $2million dollars.
According to them, the first phase of the project, will be constructed over a five-year period and will be funded by the church locally with support from its international members.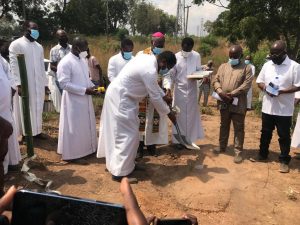 In his welcome address, the Metropolitan Archbishop of Accra, Most Rev John Bonaventure Kwofie, explained that the project is in response to the needs of   children who require specialized medical care.
Although there are paediatric units at various hospitals in Accra,  he noted that, the Princess Marie Louis  hospital  at Ga Mashie, is the only major children hospital.
The Kwabenya project, which has been christened, the " Legacy Of Hope" according to him ,is therefore to add up to  the only children hospital in Accra.
The construction of the hospital, he emphasized is also to help uplift the children which is in line with the health doctrine of the Catholic Church.
The Church, he further noted cannot offer all the solutions to the world's problems, but in its small way will contribute to alleviating the problems.
Three committees, namely the Finance, Project Management and Fundraising,  are to oversee to the successful execution of the project.
As part of the sod- cutting ceremony, an amount of Ghc66, 500.00 cash was raised from fundraising from members in addition to a $1000.00 cash, while pledges made amounted to Ghc157, 000.00.
On his part, the outgoing Director General of the Ghana Atomic Energy Commission, Prof. Benjamin BotweNyarko, who released 4.44 acres of GAEC lands to the Catholic Church in a goodwill message, said the land was to help the church join both the Atomic and the Ga  East hospital at the health enclave of the Commission  when they needed land for such a project.
The land which was lying behind the Catholic Church at Atomic which was initially going to be used for the project according to him, was too small.
In view of the foregoing nature of the project, the Atomic Energy Commission, he noted saw reason to allocate land to the church to embark on such a project.
The project, he believes will help reduce the cost element of some childhood ailment such as cancers, which he indicated are on the rise.
Later in an interview, he said the issue of encroachment is being addressed with the erection of a fence wall to protect the remaining land.
Source: www.thenewindependentonline.com