Story by:  Ishmael Barfi
A New Patriotic Party (NPP) National General Secretary hopeful Honourable Frederick Opare-Ansah has reiterated his resolve to facelift the New Patriotic Party(NPP) when voted for.
This, according to him when voted as the party General Secretary, it would inure to the benefit of the Elephant fraternity and by extension, the nation.
Speaking in an exclusive interview with thenewindependentonline.com,  he noted that the feeling of intolerance, lack of inclusiveness and the lack of openness with the business within the party would be addressed under his leadership as General Secretary.
He made this assertion during  his filing of nominations form  for the National General Secretary position at the party head office in Accra on 15th June, 2022.
He further disclosed that the aforementioned challenges nearly  caused the party defeat in the 2020 general elections, a situation he was committed to change.
"Even with the tie of 137 at the general elections and additional independent candidate, we still could not clinch the speakership position in Parliament", he revealed.
This is a sign of a sleeping leadership within the party, adding that, "Look at a national headquarters, even when Accra has not flooded, the first floor of our national headquarters is in bad state", he lamented.
Honorable Frederick Opare-Ansah bemoaned the dwindling nature of the party and expressed his willingness to address all these internal party  challenges.
"This party is lacking in both physical structures and in electoral management", he disclosed.
The NPP, he noted is in a serious jeopardy and need to be rescued and revived as early as possible.
When asked how he intends to fix these challenges he had identified, Honourable Opare-Ansah noted that some of those challenges needs serious deliberations with all Stakeholders both local and internal  while the ones that can immediately addressed by the new leadership would be tackled.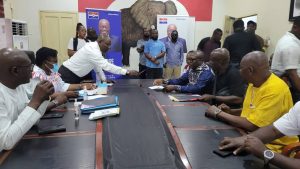 This he referred giving the grassroots a voice therefore charged members to be ready to 'kill themselves for the party' to restore the party to it's glory.
According to him, there is high despondency widely within the rank and file of the party especially the grassroots base of the party.
"Lots of party faithfuls do not see the reason they should fight for the party to come back to power because they feel neglected, they don't receive the due attention when they try to approach the national officers", he intimated.
"So my view is that we have to clear the top because if an animal gets rotten, it starts from the head.
"Our party is gradually getting rotten", he cried out.
Hon. Fredrick Opare-Ansah was the former Member of Parliament (MP) for three terms.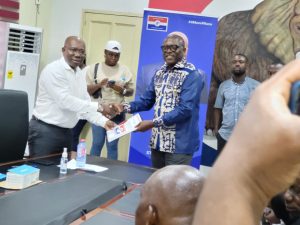 During his era, he exhibited a high sense of maturity, built a strong relationship with his constituents and party members.
This is what he is bring on board as National General Secretary.
Source: www.thenewindependentonline.com