Story by: Ishmael Barfi
The Managing Director of Sonotech Medical Center, Dr. Grace Buckman has called on State agencies (Ministry of Health and Ghana Health Service), International agencies, Civil Society Organizations, Philanthropists as well as individuals to make a conscious efforts to fight breast cancer.
According to her, it is of importance to join other stakeholders to sensitize the general public especially women on the need screening for early detection and treatment from certified medical center.
This she noted would help save the lives of many women from loosing their treasure, breasts.
It is devastating for a woman especially young mothers to loose a breast due to cancer, hence the need to provide counseling, screening for early detection as well as treatment to affected women.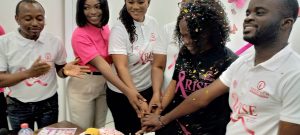 Dr. Grace Buckman made this passionate call at the official launch of Sonotech Breast Cancer Awareness held at its West Hills mall branch in Accra.
To her, "Breast Cancer Awareness Month in October is a period to come together for awareness creation, public education, screening for early detection; mobilization of resources as well as remembering and honouring the fallen and most importantly support patients and survivors".
To that effect, she revealed that, her medical outfit, Sonotech Medical Center over the years have given discounts to breast cancer patients as its own way of contributing towards the fight against Breast Cancer in the country.
"For instance, just last year 2021, out of the over 200 women screened, a total of 230 women benefited from 50% discounted breast ultrasound scans because of our breast cancer program whiles 10 others benefited from our 20% mammography scans.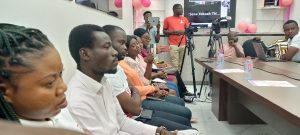 This she noted provided a cash support of GH 40,110.00 indirectly adding that, "through this gesture to these group of women, we have helped them to use that amount for other needs."
For the past six years, she stated that, Sonotech Medical Center have supported over, 2,275 women with over GH 289,770.00 through its October breast cancer awareness program".
"we know the value of brighter future even with breast cancer and we did these through a series of activities such as free breast screening and education in all our branches, including of course our discounted breast ultrasound and mammogram scans", she acknowledged.
And also, Sonotech Medical Center embarked on education drive through social an traditional media as well as made cash donations to selected victims and the breast cancer unit at Korle-Bu Hospital as part of their investment towards the fight against Breast Cancer.
Touching on this year 2022 theme: " It's Time to Rise$, she indicated that, the goal is simple: to call on everyone to rise once again for breast cancer through public awareness for the women and men affected by this devastating disease.
Revealing that, " throughout this month of October, Sonotech and partners will engage in several activities including a health walk on the 1st October,2022, free breast screening and education in all branches of the organisation located at Tema Community 9, Osu Danquah Circle, and West Hills mall.
In addition, organize a talk and screening at the National Communications Authority (NCA), embark on media engagements on a number of media houses in Accra as well as undertake a fundraising at Oliver Twist.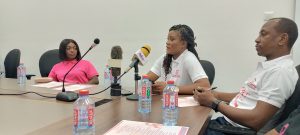 Not forgetting talk shows and Brest screening in several churches and for organised women's group.
Dr. Grace Buckman used the occasion to pledged that Sonotech Medical Center will continue to encourage and support people living with breast cancer , educate and spread awareness of breast cancer with the view of building a stronger, healthier community where no person faces breast cancer alone.
"It is time to rise up for someone you love, support and care about by donating to support all activities.
October is Breast Cancer Awareness Month, which is marked in countries across the world, and helps to increase attention and support for awareness, early diagnosis, and treatment as well as palliative care for women facing cancer.
Whiles Sonotech Medical Center is a legally registered privately owned Ghanaian company offering 24 hours clinical and medical diagnostic imaging services with modern facilities with three branches in Osu-Danquah Circle, Community 9 in Tema and inside the West hills Mall at Dukonah near Weija, off the Accra – Kasoa highway.
Sonotech offers clinical, diagnostics and pharmacy services in all branches managed by highly skilled and motivated health professionals and well recognised specialists in various medical field.
Source: www.thenewindependentonline.com