Story By: Jamila Wahab
The Ghana Non-Communicable Diseases Alliance(GhNCDA) has warn the general public to stay away or reduce the intake of sugar-sweetened beverages (SSB).
This is because Sugar-Sweetened Beverages (SSB) contain highly fatty food, sugar, salt gambling which is very harmful and major cause of diseases in the society and individuals.
Speaking at a sensitization seminar for journalist on public health implication of SSB in Accra, The National Coordinator of GhNCDA Mr. Labram Musah said diseases such as diabetes, stroke, high blood pressure, obesity and several other related diseases do have very limited cure.
"Hence there is the need for the government to consider putting heavy taxes on these products to make them unattractive".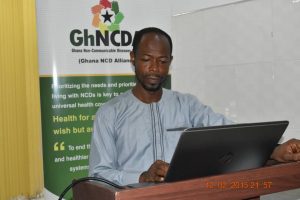 According to Mr. Musah, his organization main vision is to create a health free Ghana and as such their duty is to educate the public on the harmful consumption of SSB and it effects on their health and wellbeing.
Adding that, most of these SSBs manufacturing companies lure the general public with appealing and persuasive advert and sometime using trusted individuals, celebrities, and well-known personalities for their advert, hence making the SSBs brands and products famous, popular, and increasing it consumption.
Stressing that the SSB industry sometime interfere in the work of media houses by given very attractive advert line with huge sum of payment just to shut them up.
He said increase in SSBs consumption will, directly and indirectly, be an obstacle and threat in advancing in achieving public health, the SDGs especially Goals and other related development goals of the country.
The National Ccordinator Emphasized that some of these industries uses economic power to lobby and influence government and sometime fund their political ambitions in order to propagate the state and distribution of its deadly SSB product.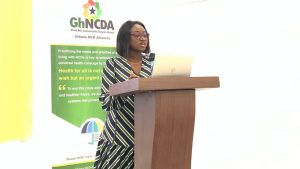 Mr. Musah also said the industries interferences have some common understanding by giving back to society, community and the vulnerable.
"Ghana cannot afford the epidemic proportions of the NCDs levels as the health care system cannot take care of people who are sick".
"The public health nutritionists must intensify the sensitization campaign to protect the health of the citizens", the National Coordinator laments.
Madam Helena Rnutr, a Founding member of the Ghana Academy of Nutrition and Dietetics (GAND) who spoke on Health Hazards of SSBs stated that excessive consumption SSB causes several chronic diseases
She said some drinks that claims to be high in vitamins, antioxidants, and other healthful ingredients, are often high in sugar that can cause health hazard to the body, "we can therefore, moderate it consumption and can be of importance to our overall health and our well-being".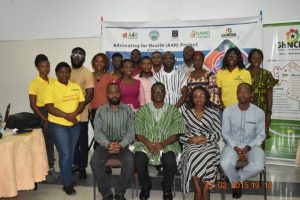 "Excess sugar consumption is associated with weight gain. As Obesity is linked to an increased risk of developing many chronic diseases, including stroke, type 2 diabetes, osteoarthritis, and gallstones.
"Overweight and obesity prevalence is set to cost the global economy 3.3% of GDP by 2060. Currently, a direct relationship between SSB intake and cancer has not been observed", she added.
Beside that, overweight and obesity has been associated with several forms of cancer, including cancers of the breast, colon, rectum, endometrium, esophagus, kidneys, and pancreas, Madam Helena revealed.
The brain behind GAND lamented that SSBs increases the risk of developing type II diabetes mellitus among children.
She said. data gathered during the Nurses' Health survey and Study II, revealed that women who consumed one or more SSBs per day had an 83% higher relative risk of developing diabetes when compared to those who rarely consumed sweetened drinks".
Professor of Public Health, Amos Laar, at the University of Ghana on his presentation on Avocating for Ghana Health (A4H) Project: said it is the duty of The A4H project to identify a realistic legal pathway to enforce higher taxes on SSB product in Ghana in order to reduce it productivity and if possible the intake.
"This is called a health taxes and they are levy's on good deem harmful to society and individuals".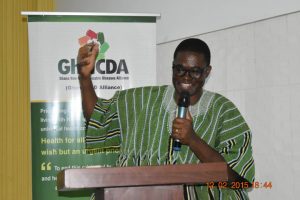 Emphasising that, the project will generate accurate and avail evidence to support advocacy, scholar activism, and counter opposition from food & beverage industry and many others.
He said the World Health Organization (WHO) has endorsed these taxes as part of evidence-based strategies for the prevention and control of NCDs.
Mr. Essel Francis Cudjoe, a Person Living with Diabetes who shared terrible experience on how he battled with ailments, also seized the opportunity to advise all and sundry to refrain from drinking sugar-sweetened beverages as they increase the risk of contracting diabetes and other diseases in humans.
The seminar was aimed at educating the journalists about the health risks associated with excessive SSB consumption in order to help champion the Advocating Health (A4H) Project since GhNCDA recognizes the media as a powerful advocacy tool.
Source: www.thenewindependentonline.com