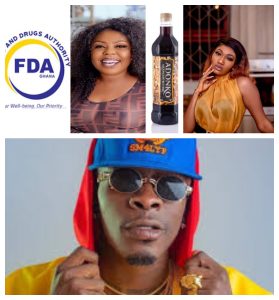 Story by: Ishmael Barfi
In the quest to ensure sanity in the advertisement of alcoholic beverages in Ghana,  the Vision for Alternative Development (VALD-Ghana), the Ghana NCD Alliance (GhNCDA), Community Health Support Team (CHEST), and other Civil Society Actors in Ghana has  pledge their unflinching support to the Food and Drugs Authority (FDA) to enforce it's 2015 regulations on alcohol beverage ads' directive in the country.
This comes in the wake of a writ at the Supreme Court issued on 11th November 2022, by the plaintiff, Mark Darlington Osae over FDA's 'no celebrities in alcoholic beverage ads' directive: arguing that the FDA's 2015 regulations on alcohol are tantamount to discrimination on the grounds of economic status and occupation among others.
In a Press Release issued and signed by the  Executive Director of Programs, Vision for Alternative Development Labram Musah in Accra, indicated that, the calls on the FDA to lift the ban on celebrity advertisement is only based on personal gains and interests, without consideration for public health and the well-being of children, youth and most venerable whom the law seeks to protect.
"We express our disappointment at how some celebrities and media commentators endorse and promote alcohol advertisements without recourse to how their actions increases alcohol consumption and impacts negatively on people's health", the Release bemoaned.
Adding that, "We doubt if the plaintiff clearly appreciates the good intent of the Ministry of Health and Food and Drugs Authority; "protecting the health and wellbeing of Ghanaians and more especially children and the youth from adult inappropriate content".
The directive by the Food and Drugs Authority according to VALD-Ghana is for the protection of children, and youth as well as public health, therefore safety must be a primary concern for all well-meaning citizens.
To that effect, VALD-Ghana commend the Ministry of Health and the Food and Drugs Authority for restricting alcohol advertisements on TV and radio from 6am – 8pm as well as the ban on well-known personalities and celebrities from featuring in alcohol advertising.
"Indeed this remarkable directive by the FDA has raised high the profile of Ghana globally, and have been widely acknowledged for implementing one of the Best Buys of the World Health Organization (WHO) hence, the need to work rigorously towards either maintaining the standard or enhancing it.
According to the World Health Organization (WHO), alcohol consumption contributes to 3.3 million deaths each year globally as well as to the disabilities and poor health of millions of people– many of them living in low- and middle-income countries, including Ghana.
Furthermore, 94,400 people in Ghana, die from non-communicable diseases such as cancers, stroke, liver problems, cardiovascular diseases, mental disorders etc. which alcohol has been identified as one of the major risk factors.
Sadly, the National Health Insurance benefits package does not comprehensively cover the expensive cost of treatment, leading many into premature deaths.
According to the Release, it is very important to note that alcohol interferes with the normal brain development of children which research has revealed that even at 25 the human brain is still developing.
Hence, the need to be more circumspect when opposing efforts by national authorities to protect children and young adolescents from present and future harm.
Parenting obviously plays a huge role in shaping morality, but celebrities including movie actors, footballers, Parliamentarians, media personalities and many others in today's world have much greater impact on the children and young adults; as they emulate their role models blindly.
Recounting the incident where the sitting President Nana Addo Danquah Akuffo-Addo then a presidential candidate in the 2016 elections sipped a Kalyppo drink; which got almost of his followers replicating his actions, hence  was a "big influence we are talking about. The story would have been intensely same or even disastrous, if he had sipped on an alcoholic beverage".
"May we remind the plaintiff of what happened in 2017, during the annual Adonko Aseda Bash at the Baba Yara Sports Stadium in Kumasi in the Ashanti Region, where some celebrated artists thrilled their fans to their favorite tunes, while the organizers wooed the youth to the event with a free gate but on condition that each patron purchased a bottle of Adonko Bitters liquor at GH¢10".
The aftermath of the event  according to the Release raised lots of eyebrows as young people in their teens most especially were found intoxicated and half dead, panting for breath, after the concert.
To that effect, the release emphasized that, alcohol marketing is harmful to all, especially our children and youth- it normalizes alcohol use, encourages people to take up alcohol and also reinforce consumption among those who are already addicted.
On that note, "We therefore urge our celebrities and well-known personalities to look for other health benefiting avenues and business ventures that would impact positively on their teeming followers and not their personal gains and interest- this we think is more fulfilling".
Currently, alcohol advertisement is only restricted on TV and radio from 6am – 8pm, however, alcohol advertisements on billboards are visibly mounted on our major roads.
Unfortunately, VALD-Ghana indicated that,  alcohol is affordable and sold everywhere and to everyone including children and young adults without any restriction which is a clear violation of rights of children.
"We therefore call for more stringent policies and guidelines to regulate the advertisement, marketing, accessibility and affordability of alcoholic beverages in Ghana- the industry has lived on Self Compliance for far too long which does not work in practice".
Adding, "We stand firmly with the Food and Drugs Authority throughout this court procedure and are hopeful that these public health measures implored by the authority, with vested powers by the Public Health Act (2012), will triumph over the personal interests of some few individuals.
Source: www.thenewindependentonline.com