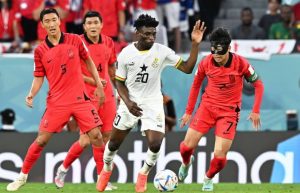 Story by: Sports Desk
A New Patriotic Party (NPP) Presidential Aspirant, Joe Ghartey says the Black Stars and Ghana should succeed at the ongoing FIFA World Cup Qatar 2022.
Reacting to the Black Stars impressive performance against South Korea, Hon. Ghartey says even the replay of the Ghana South Korea match was difficult to watch it revealed the remarkable resilience of the Black Stars.
Ghana defeated South Korea 3 – 2 on Monday evening, November 28, 2022 in the second match of the Group H.
And Hon. Ghartey in reaction, said the last twenty minutes of the Ghana vs South Korea, especially the ten minutes extra time was pure torture.
Hon. Ghartey said the Ghana Black Stars displayed remarkable resilience in the face of the South Korean onslaught.
He said that no wonder the South Koreans broke down in tears after the match. They knew they had given it their all to no avail.
"We talk about the proverbial Ghanaian hospitality he said but we should also start talking about our remarkable resilience and the Ghanaian "can do spirit".
This must be our guiding principles he said as we start the journey back to economic prosperity. Even though things were not easy he said the current situation presented a unique opportunity to turn Ghana around for good and to break once and for all the cycle of boom and bust that has plagued as since independence."
He also wished the Black Stars well saying that for now we are taking it one game at a time with high hopes and expectations for a positive result against Uruguay.
Source: www.thenewdependentonline.com