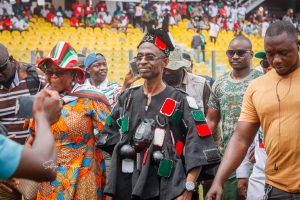 Story by: Ishmael Barfi
The win of Johnson Asiedu Nketiah according to the main opposition party,  National Democratic Congress (NDC) Caucus of Regional Chairmen underscores the party's confidence in him to lead the party to victory in the next general elections.
To them, the newly elected National Executives is true reflection of the will of the foot soldiers of the party across the length and breath of the country
This was contained in Press release jointly issued and signed on Monday, 19th December, 2022 by it's secretary, kevor Mark-Oliver and John Kwadwo Gyapong chairman
"On behalf of our sixteen (16) Regions, we wish to congratulate the new National Chairman of our party, Hon Johnson Asiedu Nketiah and his dynamic team of National Executives.
Stressing that, "the emphatic win of Asiedu Nketiah across all regions underscores the party's confidence in him. We trust him to unite and lead us; and most importantly to deliver victory in 2024″.
The Caucus of Regional Chairmen further urged the National Chairman, and his newly elected executives to quickly bring everybody onboard as promised, in order to secure power in 2024.
Reiterating that, "Securing power in 2024 is absolutely necessary to relieve Ghanaians from the current economic hardships imposed by the clueless and inept NPP government".
To achieve this feat,  the sixteen (16) Regional Chairmen of NDC, on behalf of their respective regions, pledged their fullest support to Chairman Asiedu Nketiah's administration.
"We further assure him of our readiness to work together towards the much needed victory in 2024"..
Source: www.thenewindependentonline.com