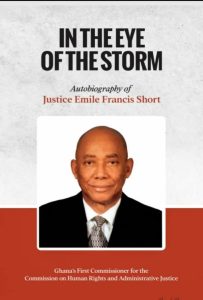 Story by: Nana Kweku Gyebi Boateng
The first Commissioner of Ghana's Commission on Human Rights and Administrative Justice, CHRAJ, Mr. Justice Emile Short has put pen to paper, and the result is an autobiography which will be launched on Thursday February 9, 2023 at the Ghana Academy of Arts and Sciences at 4pm.
The book Titled: 'IN THE EYE OF THE STORM', gives a candid and authentic account of the eminent lawyer's life and work, and provides a vivid narrative of the development and growth of CHRAJ in the early days and how the concept became part of our administrative and judicial canon.
The Chairperson for the event will be Justice Professor Henrietta Mensa-Bonsu, Justice of the Supreme Court.
The book is being published by DigiBooks.
Mr Justice Emile Francis Short, is a Ghanaian judge and academic who was appointed the Commissioner for Human Rights and Administrative Justice (CHRAJ) in Ghana at the beginning of the Fourth Republic in 1993 by President Jerry Rawlings.
Prior to working with CHRAJ, he was the head of a law firm in Ghana.
In 2004, he took indefinite leave from his position at CHRAJ to be the Ad Litem Judge with the United Nations International Criminal Tribunal for Rwanda at Arusha in Tanzania after he had been elected to that position by the United Nations General Assembly.
This was during the prosecution for war crimes in Rwanda, returned to his position at CHRAJ in August 2009 and retired in December 2010.
Source: www.thenewindependentonline.com