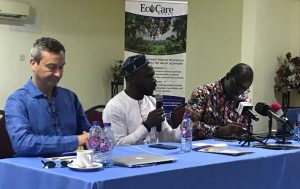 Story by: Ishmael Barfi
Cocoa Farmers have been called upon to be more aggressive and angry at the government and other relevant agencies to demand their fair share of the commodity they produce.
According to EcoCare Ghana Managing Campaigner, Obed Owusu-Addai, Cocoa Farmers over the years have been deprived of good pricing of the beans which demoralizes them and affects their livelihood.
To him, it is time for cocoa farmers to agitate as well as send a strong warning to the government and other stakeholders in the cocoa sector that, they won't continue to sit aloof for the pricing of their cocoa beans to be determined by the government and other stakeholders.
Mr. Obed Owusu-Addai, therefore charged the cocoa farmers to come together to form a union that can wholly seek proper pricing of the beans on the market.
The EcoCare Ghana Managing Campaigner Obed Owusu-Addai made the call at the sidelines of the launch of the 2023 Chocolate Scorecard that ranks companies in the Cocoa-Chocolate Value Chain on their efforts to address challenges in the sector on 28th March 2023 in Accra.
To him, "they should begin to work at cutting down on the production, they should begin to hold back their commodity such that, they can dictate the price of the commodity on the market and be ready not to sell it out if the government and other stakeholders are not willing to buy at that price".
If this is not done, the market he bemoaned will always take advantage of them as well as multinational companies will always ride on their back and they will become poorer while the multinational companies become richer.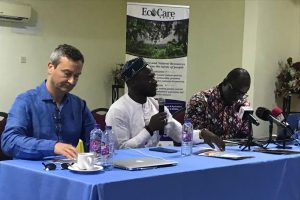 "How does a farmer who produces the commodity that generates about 110 billion in 2021 not get even 10% of the value of that commodity" he quizzed adding "that is why the farmers need to agitate because governments of Ghana and Cote d'Ivoire are not fighting for their best interest".
The 2023 Chocolate Scorecard is the 4th edition and covers six sustainability categories namely Traceability Transparency, Child Labour, living Income, Deforestation and Climate, Agroforestry, and Chemical Management.
The Chocolate Scorecard for his year ranked 83 of the largest chocolate companies retailers, and processes on their performances in the above six categories.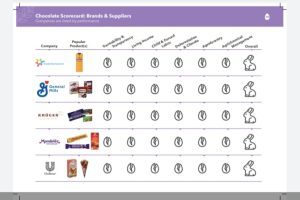 Original Beans and Tony's ChocoLonely was ranked as the most Sustainable Chocolate Company followed by Beyond Good.
Whiles General Mills and Walmart received the Rotten Egg Award for their lack of public policies as well as their commitment to cocoa procurement.
Not forgetting its lack of transparency in implementing its policies hence making it difficult to hold them accountable.
Giving into detail the rationale behind the Chocolate Scorecard, Julian Oram, Senior Director at Mighty Earth explained that, the purpose of the scorecard is to look at how countries are addressing issues around the six criteria through their policies and practices including their purchasing practices.
In furtherance, he revealed that companies become more aware of what their responses are; should be and are willing to try hard to improve their practices when they are engaged in a conversation.
These companies he noted mostly don't want to be ranked below their competitors, hence update their policies and processes to meet up with the six sustainability categories.
"We have been doing this for four years now and we have seen some companies who were red go from red to yellow and even green", he noted.
The Senior Director at Mighty Earth, Julian Oram, was of the view that "just by having this conversation we want companies to also be speaking to other companies. What can they do together? How can they collaborate? How can they be transparent as well about what is happening in their supply chains".
According to him, many of the companies they surveyed either buy Cocoa directly from Ghana or use cocoa from Ghana in their chocolate manufacturing.
This is noted as a result of Ghana being one of the world's leading producers of cocoa, hence the findings from this scorecard have relevance to Ghanaian farmers and Ghanaian traders.
"Now what we will like to see more of is efforts by these companies to form relationships with Ghanaian farmers particularly to ensure that they are paid a fair price because the living income of farmers in Ghana has gone down in the last two years rather than up and that's because farmers aren't earning enough from what they are being paid at the farm gate for their Cocoa", he emphasized.
"So it's really important that the companies we are surveying understand their responsibility and understand the issues like deforestation and child labor won't go away until they address the problem of fair pricing for farmers", admonished.
Present at the launch were Samuel Mawutor, Senior Advisor at Mighty Earth, and other stakeholders.
Source: www.thenewindependentonline.com