Students of three regions in the middle belt namely Ahafo, Bono, and Bono East have been sensitized on the dangers of cybercrime and the need to be cyber security conscious when using the internet. This forms part of this year's National Cyber Security Awareness Month which kick-started in Accra on October 1.

The awareness month is intended to ensure that every single person in Ghana becomes conscious of some of the threats associated with the use of the digital space so they can take steps to guard against them. This year's awareness month has a special focus on children, members of the public, businesses as well as government officials.

At a separate sensitization seminars for students and staff of Mount Carmel Girls Senior High School and Techiman Senior High School in the Bono East Region, an Information Technology Officer at the Financial Intelligence Centre (FIC), Mr. Kwabena Osei Appiah, noted that though the internet has come to make life comfortable for all, not everybody is using it for good purposes.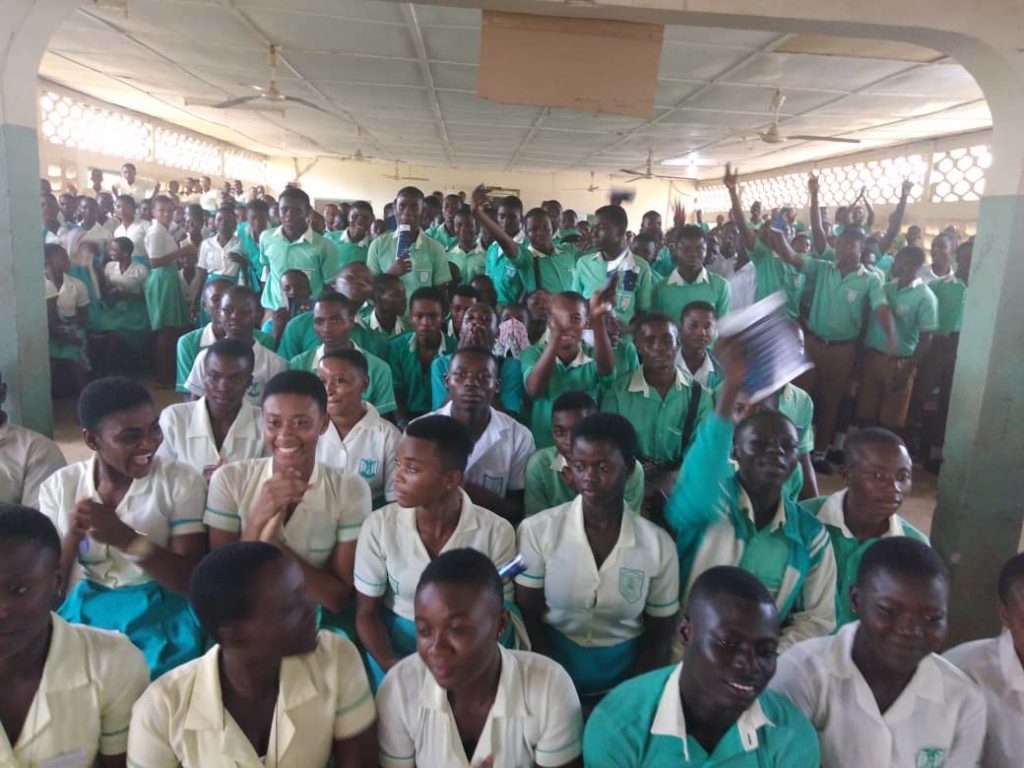 He said there are cybercriminals with the agenda of stealing people's data which they later use to harm or attack them, sometimes for ransom.

"Cybersecurity is therefore the process of protecting yourself from cyberattack; securing your computer systems from attack and also protecting your data," he stated.

He explained that when cybercriminals attack computer systems or key national installations, they make the country unsafe which is why the government is working to ensure that Ghana is digitally safe.
Adding that, individuals must also make the effort to compliment what the government is doing by putting in place good safety measures.

Mr. Appiah took time to explain some of the dangers associated with online use which include exposure to child pornography, fake news, falling prey to net predators, phishing, ransomware, cyberbullying, sextortion, among others.
Therefore urged the students to practice online safety by not exposing or releasing too much information about themselves online as well as use original software and strong antivirus to protect themselves as users, their computer systems and their information.
Highlighting some of the good practices in the cyberspace such as reporting abuses, unfriending offensive conducts, respecting others views, avoiding the propagation of fake news, and keeping ones' profile private, he however warned, "Be mindful of whatever you share online, it must be good things only".

On things they should never do while online, Mr Appiah said they should avoid meeting people they meet online, offline; involve an adult when they must necessarily meet the person and this should be at an open space; they should tell someone when they see something or feel threatened by someone, and many more.

He announced that the Ministry of Communications through the National Cybersecurity Centre (NCSC) has established a National Cybercrime/cybersecurity Incident Reporting Points of Contact for the citizenry to lodge complaints on cybersecurity related issues for the necessary action to be taken.

He urged the students and tutors to make good use of the centre by reporting any suspicious activity around them while assuring them that the identity of whoever calls to report an incident would be protected.
The call centre number is 292 toll free on all networks, 0501603111 for WhatsApp as well download the NCSC Ghana mobile App or email report@cybersecurity.gov.gh or submit an online form at cybersecurity.gov.gh/report.

The lead presenter on the team, Dr Jacob Puplampu, who is also the head of Technical and Cybercrime Unit at the Economic and Organized Crime Office (EOCO) explained that the National Cyber Security Awareness is part of the government's national digitization agenda to ensure that the country is digitally safe.

The Techiman Municipal Guidance and Counselling Coordinator, George Aso-Oliyah who spoke on behalf of the beneficiary schools was grateful that such education was brought to the municipality. He said the message has been well taken and that he will ensure that it is highlighted enough for the use of both students and tutors.

Ms Mildred Adobea Addo of the National Cyber Security Centre told ghananewsonline.com.gh in an interview on the sidelines of the presentations that, this year the awareness information has gone wide because a minimum of two schools from each of the 16 region have benefited.

"The participations were very encouraging that, we are more encouraged by the level of interest the students generated in our presentations.
Indicating that, "This is more evident in the kind of intelligent questions they posed to us, we are satisfied…We hope to continue spreading this information so the world would know that Ghana is digitally safe".

Inter-forms quiz competitions on the subject matter were organized after every presentation. Winners received prizes such as brand new Mini-Tablet, packs of soft drinks and books

Source: Jeorge Wilson Kingson || ghananewsonline.com.gh