Source: www.thenewindependentonline.com
To ensure orphans and the less privileged in the society are not left out in this festive celebrations, Van Moorhouse Foundation (VMF) dined with children of Enough Grace Orphanage Foundation located at the heart of Accra, Ghana.
Dinning with the children was to lift their spirits up, and put smiles on their faces, as most children living at orphanages across Ghana are often forgotten during these festivities, and do not get the opportunity to celebrate such occasions with family and friends.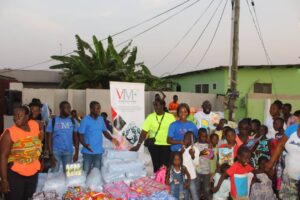 Enough Grace Orphanage Foundation, a registered Non-Governmental Organisation (NGO) was established in the year 2006 by Mrs. Marian Adabie and her husband, Mr. Adabie, to raise and take care of the less privileged and vulnerable children in the Awoshie community, and society at large.
Whiles Van Moorhouse Foundation is a registered Non-profit Organisation that strives to enhance lives by providing daily necessities to the vulnerable within communities across the country
Speaking at the gathering, the Head of Administration, Dr. Osbon indicated that, our donations and dining with the children, was to show love and affection, as we celebrate the birth of our saviour Jesus Christ.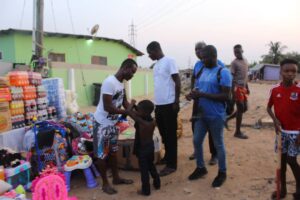 Adding that, VMF commitment is to serve, share and enhance lives, by bringing hope to those less fortunate in our society, especially during these unprecedented times, when all the world has been suffering during the pandemic.
On her part, Mrs. Marian Adabei expressed her gratitude and appreciation to VMF for their support in this yuletide time.
To her, it is her passion to render social support and assistance to the community, hence the establishment of the orphanage, adding VMF gesture will go a long way to help the realization of this aim.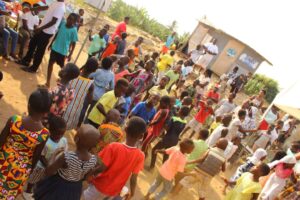 She also noted that, since its inception , it has nurtured and provided shelter for many orphans and less privileged in the community.
To that effect, she called on other institutions and foundations to emulate Van Moorhouse Foundation to continue serving the community.
Apart from the great feast, a variety of gifts donated by Van Moorhouse Foundation to Enough Grace Orphanage Foundation includes boxes of clothes, shoes, toys, reading books, bags of rice and maize, cooking Oil, a gallon of Palm Oil, boxes of Key Soap, and Medicated Soap, Toilet Rolls, Sanitary pads, a box of First Aid kit.
The rest are boxes of Toothpaste and toothbrushes, One Hundred (100) bags of sachet water supplied by Hydrate Ghana Limited, five hundred (500) pieces of Fan Milk Ghana Natural yogurt, and twenty (20) packs of assorted drinks.
To add colour to the event, activities such as dancing competitions, among others, were also staged for entertainment among the children.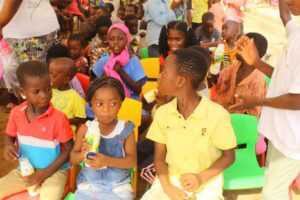 Since its establishment, Van Moorhouse Foundation has been very instrumental in reaching out to people living in impoverished communities in Ghana; providing educational materials, free health outreach activities and donations to improve lives.
Present at the occasion were team of volunteers from Van Moorhouse Foundation and its Country Director, Michael K. Darkwah.
Source: www.thenewindependentonline.com