Story By: Ishmael Barfi
Waste management giant, ZOOMLION Ghana Limited has assured government of the readiness of private waste management companies in tackling the numerous sanitation challenges in the country especially the fight against COVID-19.
This comes in the wake of the President of the Republic, His Excellency Nana Addo Dankwa Akufo-Addo announcing the reopening of basic, Junior High, Senior High Schools and universities across the country during his 21st Nation's Address (updates on Coronavirus) yesterday, 3rd January,2021.
Speaking at the Fleet & Equipment Exhibition under the theme: "Making Ghana Safer and Healthier", the Managing Director for Zoomlion Ghana Limited, Madam Gloria Anti revealed that, her firm has purchased modern State of Art equipments to carry out activities aimed at managing sanitation issues in the country as well the fight against COVID-19 as schools reopen.
"These modern State of Art machinery acquired is not only for  sanitation issues but also to be used in the fight against the spread of the pandemic, Coronavirus", she emphasized.
And with the purchase of these State of Art equipments, Madam Gloria indicated that, this shows Zoomlion Ghana Limited readiness and commitment to conitnue the disinfection and fumigation exercise(s) since the outbreak of the pandemic in March, 2020.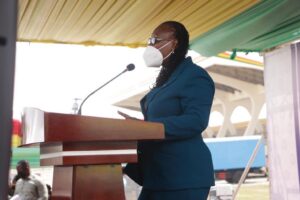 Madam Gloria Anti also stated that, as part of their commitment in supporting government to tackle vectors, an association has been formed namely, Pests and Vectors Association of Ghana with the prime focus of supporting overnment in dealing with disease causing vectors in whatever form they come.
The Managing Director of Zoomlion Ghana Limited(ZL), Madam Gloria used the ocassion to praise other stakeholders who supported in the previous phases of the Disinfection campaigns.
"Without the support of these stakeholders, the exercise would not have been successful, therefore we are grateful and says thank you", he aknowledged.
Speaking on its efficient Workforce, Madam Gloria Anti disclosed that aside the modern Stae of Art machinery acquired, its hardworking and efficient workforce is ready and capable to execute any tasks assigned to them.
Revealing that, currently it workforce is Seven Thousand (7,000) who are well trained, committed and ready to discharge their respective duties given to them.
Source: www.thenewindependentonline.com