---
Burglar arrested with his booty
Filed by: Sheila Mensa Satori
A suspected burglar, Kennedy Obeng  who broke into a house at Amamoley near Ga North Assembly has been apprehended by residents of the area after his entering into the house.
Giving details and comfirming the incident to www.thenewindependentonline.com,DSP Effia Tenge, head of the Accra Regional Police Command's Public Affairs Unit explained that, on Monday, March 29,2021 at about 3pm the Ghana Police Patrol team arrested suspect Kennedy Obeng, 25 years of age together with exhibits, 42 inches Samsung flat screen, TV set and its remote control , kente cloth and three other pieces cloth.
She further said, value of all the items are not yet known adding, the Patrol team later brought the suspect to the Regional Police Command for further interrogations.
The suspect was arrested by the residents with all the above mentioned items in his possession.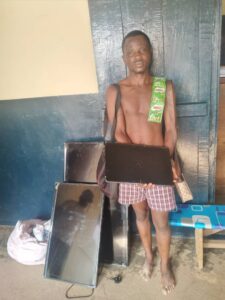 "The police revisited the scene where suspect demonstrated to Police how he gained access to the house to commit the crime",Mrs Tenge narrated.
firthermore, the owner she noted came later and led the police team into the apartments where it was observed that almost all the rooms were ransacked along with the flat screen TV set fixed in the living room removed.
To ensure the safety of the occupants of the apartments, DSP Effia Tenge stated that, the house has been secured and victim advised to access and notify the police of any other stolen items from the appartments to enhance investigation.
Source: www.thenewindependentonline.com