Expedite action on accreditation process of health training institutions – Principal
Report by: Ben LARYEA
The Principal of Nursing and Midwifery Training College, Madam Georgina Oppong has called on the health training institutions through the Ministry of Health (MoH) to expedite action in collaborating with the National Accreditation Board (NAB) to relax the accreditation process and conditions of the health training schools.
According to her, some of the conditions demanded by NAB is putting undue pressure and stress on Principals in their respective health institutions.
"Health training schools go through affiliation and accreditation processes", she said and explained that the said schools were established pre-independence and as such have depended on government subventions to run the schools aside its Internally Generated Funds (IGF).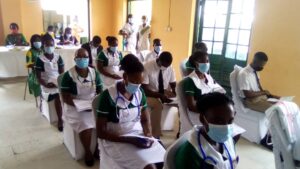 The training schools are Public Health Nursing School, Accra School of Hygiene and Nursing and Midwifery Training College.
Madam Georgina Oppong was speaking during the 2020/2021 academic year joint matriculation ceremony of Nursing and Midwifery Training College, School of Hygiene and Public Health Nurses School, Korle Bu, Accra.
Courses and programmes offered in the various health institutions are, Environmental health, Occupational health and safety occupational therapy, Registered Community Nursing, Registered general nursing and Registered midwifery.
"Health training institutions have focused on excellence in training high quality health professionals which have scaled up the production of nurses, midwives, environmental health, occupational therapist and occupational health and safety graduates to enable the citizenry receive good health care delivery", she said.
She therefore commended the matriculants for the choices of their respective programmes, adding that their study will depend on the attitudes and the commitments they engage during the training programmes on campus.
For his part, the Principal of Accra School of Hygiene, Mr. Smile Kobina Ametsi urged the matriculants to adhere to the rules in the training schools and exhibit also good moral values and take also advantage of all the protocols of the institutions.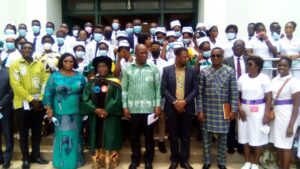 "I urge you to cooperate with the management and staff and cultivate the habit of self-discipline as well as take your studies serious", he advised.
Source: www.thenewindependentonline.com