Story by: Ishmael Barfi
A Senior Nurse Officer at the Takwa Municipal Hospital, Madam Selina Arthur has called on the general public especially families not to attribute pre-mature birth of expectant mothers as taboo or a curse in the society or family.
According to her, pre-mature birth is a natural phenomena that needs to be understood and has no spiritual linkage or a curse on the family or mothers.
Adding that, it is time the public especially families support mothers that give birth before the due time of delivery to ease the pain and suffering of these mothers.
Senior Nurse, Selina Arthur gave these advice when Little Big Souls, a charity Organisation donated two infant incubators to the Tarkwa Municipal Hospital in the Western Region, Ghana.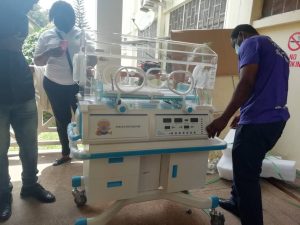 The donation of incubators by Little Big Souls has been described as a relief and a 'saviour' in the quest to cater for pre-mature babies within the Tarkwa Municipality and other towns.
Expressing her gratitude to the Charity organization, Madam Selina Arthur revealed that, currently the Neo-intensive Care Unit of the hospital is in serious support to provide quality healthcare to mother's and their pre-mature babies.
"The place, that is the Unit is very small to contain the numerous cases that comes in from other constituencies and within", she bemoaned.
Explaining further that, in a month, The Unit records about thirty (30) premature babies at the facility.
This she describes worrying and disturbing due to lack of equipment and spacious facility that would aid them, the staff to provide quality healthcare.
"Work becomes difficult when equipment and other logistics are not available", she added.
However, with the absence of this, staff and management she noted is doing their best to ensure pre-mature babies are well taken care off to strive and grow.
Receiving the incubators on behalf of the hospital, the Medical Superintendent, Dr. Fredrick Sarpong thanked Little Big Souls for the kind gesture.
Explaining that, "we have been campaigning for a long time for stakeholders and industry players to get us incubators to ensure wellbeing of these pre-mature babies brought to the facility".
Though the hospital has seven incubators, only three is currently working, he revealed.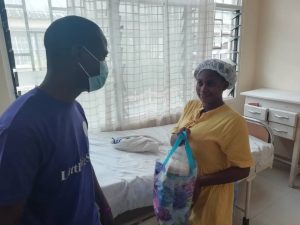 This forces them sometimes to pair babies in one incubator which he noted is no right and professional because of the infections these babies may have acquired.
Therefore the new incubators would go a long way to help their quest to ensure pre-mature babies strive and survive looking at the volume of cases that comes in on daily basis.
"We are so glad that, you have brighten our day with these two incubators and this had come to lessen our pain and sufferings as we provide quality healthcare to pre-mature babies and their mothers", he expressed.
Dr. Fredrick Sarpong used the occasion to appeal to other organisations to come to their aid as Little Big Souls has done for they are burden with a lot of cases.
On her part, the Co-founder of the organisation, Edith Uyovbukerhi explained that, there is the need for pre-mature babies and their mothers given special medical attention and support to enable them to ensure the wellbeing and growth of their pre-mature babies.
She further indicated that, Little Big Souls saw the need to support the Tarkwa Municipal Hospital with incubators because of their hardworking attitude and spirit to ensure pre-mature babies strive and survive.
This she said is the core objective of the Charity organisation, Little Big Souls adding "we have the responsibility to ensure pre-mature babies are well taken care of since it is not their fault to come before the stimulated time".
According to her, it is a bad experience to loose a baby born before the expected time due to inadequate medical logistics, staff and care at a hospital describing it 'a needless death'.
This experience she recounted led to establishment of the organisation, Little Big Souls in memory of her child's name to bring hope and life to others.
Mrs. Edith Uyovbukerhi expressed her gratitude to all donors who made it possible for Little Big Souls to donate these two incubators to Tarkwa Municipal Hospital.
The cost of the two incubators donated by Little Big Souls is worth $16,000.
Little Big Souls founded by  Uyovbukerhi and her lawyer sister Chief Mrs. Yvonne-frances Igweh is a charity recognised by the World Health Organisation (WHO) that works to improve outcomes for premature babies in five African countries: Ghana, Nigeria, South Africa, Guinea and Zimbabwe.
Prematurity is the leading cause of death in children under age five with about 1 million babies – more than one in every ten – dying every year.
The WHO suggests that half of premature deaths in low income settings are due to a lack of mostly basic care such as provision of warmth, breastfeeding support, care for infections, and the more advanced care in handling breathing difficulty whiles nearly all premature babies survive in developed health systems though.
In fulfillment, Edith Uyovbukerhi found a way to turn a moment of great despair 13 years ago into an opportunity to bring hope and goodness to the world.
Source: www.thenewindependentonline.com