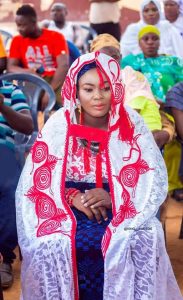 Story By: Jamila Wahab
The deputy Chairwoman of the Greater Accra Bissa Development Association Magaajia Khadija Ali Dabonni has been appointed as the deputy National Women's Commissioner of Bissa Development Association (BDA).
This reshuffling is as a result of a vacancy for the Deputy Women Commissioner position.
Hence the announcement by the National Election Committee (NEC) of BDA on Friday, 4th November, 2022 in Accra.
Magaajia Khadija who is popularly called  Dee Dee moves to the national level to occupy the vacant Deputy Women Commissioner position which has been vacant for past three months following the resignation of Madam Sakina Dabre, the immediate past Deputy Women Commissioner.
This appointment according to NEC comes after a broad consultation and an overwhelming endorsement  of Magaajia Khadija by all national executives.
In a statement issued by the NEC described her as someone with "a wealth of experience in advocating for women's issues."
Adding that, "Her commitment to spearheading the BDA's work on gender equality and the empowerment of women at all levels is worthy of admiration."
"And her activism and willingness to serve are testaments to her interest in contributing to the development of Bissa."
Therefore with her new position, she brings on board a wealth of experience in advocating for women's issues with a combination of strategic leadership, consensus building, and hands-on management experience, the statement acknowledged.
Magaajia Khaija's promotion to the national level comes just two months after being appointed as the Greater Accra region's Deputy Chairman.
Her predecessor had to resign in July following her appointment as the Bono Regional Women's Organizer of the ruling party, New Patriotic Party,(NPP).
The NEC also expressed its gratitude to the outgoing Deputy Women Commissioner, Sakina Salifu Dabre, for her 16 months of service to the Association.
Meanwhile, Protocol Officer Mahmoud Bancey has been appointed to act as the deputy chairman of the Greater Accra Interim Regional Executive Committee (GIREC).
Magaajia Khadija Dabonni's first assignment in a national capacity comes off on Sunday, November 6, when she travels together with the regional executives to Tema on a sensitization and reorganization mission.
She is also the Magaajia of Oyobi Zongo, a position she has held since January 2021.
And also a member of the Queenmothers Founders of Ghana and also serves as the Magaajia of the Adenta Municipal Council of Zongo Chiefs, Queens, Ulamau, and Elders.
A keen advocate for women, girls and youth empowerment, gender equality, quality education, poverty alleviation, as well as inclusive governance.
With over 10 years of  experience  in grassroots, community, regional and national  leadership,  Magaajia Khadija brings on board rich experiences coupled with expertise in advancing women's empowerment and rights.
She also champions and addresses discrimination and violence, and promotes sustainable socio-economic development towards the achievement of the Sustainable Development Goals (SDGs).
Among her many activities, Magaajia Khadija has established the Oyibi Muslim Women and Children Foundation in 2021 with the aim to provide support to the elderly, the disabled, widows, and children.
She is also an accomplished fashion designer and holds a Bachelor of Science in Management Studies from the Central University.
Source: www.thenewindependentonline.com