Source: Ishmael Barfi
Local Adaptation Champions Awards recognize four organizations for their pioneering work in leading climate change adaptation for vulnerable local communities.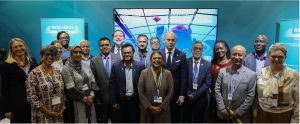 As world leaders and other stakeholders are deliberating to find remedies to the numerous climate change issues affecting the development and wellbeing of mankind across the globe at the ongoing 27th United Nations Climate Change Conference (COP27), the Global Center on adaptation (GCA) has awarded four institutions that are locally contributing to the fight against climate change in their respective countries.
The award which took place on the 12th November, 2022 at the ongoing 27th United Nations Climate Change Conference (COP27) held in Sharm El-Sheikh, Egypt aimed to recognize locally-led efforts and contributions to adapt to the negative impacts of climate change across four categories namely financial governance, inclusive leadership, capacity and knowledge, and local innovation.
Each of the four winners of the Local Adaptation Champion Awards will receive €15,000 in funds to further the work they are doing in the spirit of the locally led adaptation principles as well as have access to a global network of change makers.
The final list of winners, picked from a shortlist of 20 finalists, includes a diverse selection of organizations from Kenya, Bangladesh, India, and Nepal.
speaking at the Awards Ceremony, Professor Patrick Verkooijen, Chief Executive Officer of the Global Center for Adaptation indicated that, the works of the winners show that community-centric and locally led solutions to the climate crisis exist, hence require support and recognition to be scaled up, and to achieve the most impact.
And to achieve this, he said, "GCA is working with international financial institutions and governments to introduce these best practices into bigger funding streams, while maintaining what is at the heart of these impactful solutions and of successful adaptation – local leadership."
The Kenya's Adaptation Consortium, which supports communities to create, access, and use climate finance from varied sources to reduce their vulnerability to climate change, while strengthening public participation in the management and use of funds received the award for the financial governance category.
Furthermore, the Consortium has also designed a County Climate Change Fund to attract climate finance from public, private, local, and international sources, providing subnational governments and communities a predictable and sustained source of finance for adaptation and resilience building efforts.
Receiving the award on behalf Kenya Adaptation Consortium, Victor Orindi explained that, though a lot was happening in climate finance, there was no proper coordination.
"Vulnerable communities were not able to access funds and we noticed a barrier in sustained funding streams; and that communities could not have a say in the work to be implemented. So, we started bringing people together towards a shared vision empowering the community.", he noted
Adding that, "Responding and adapting to climate challenges largely depends on context; and the only way you can get that right is by ensuring that those who are impacted have a say in terms of how and where things are done. So, enabling them to be involved in planning process ensures that their voices count at the end of the day."
In recognition of their work on inclusive leadership, the Rangamati Hill District Council from Bangladesh are among the award-winning organizations. The Council works with local communities to combat worsening droughts, landslides, and flash floods through solar power-based safe water supply facilities and the provision of safe drinking water during crises.
The Council has also established a climate resilience committee and supported local communities in conducting climate vulnerability assessments, which have fed into the creation of local resilience plans.
According to the Public Relations Officer for Rangamati Hill District Council, Arunendu Tripura, "Now communities have clean drinking water and they can water their dragon fruit, mango and lychee orchards, and cultivate their land for food and income."
Adding that, "Also, half of our members are women. I asked them why they chose to install this water facility, and they said as soon as they were able decide a solution, they chose to end the misery they face in fetching water, to curb their suffering. This gave me great satisfaction."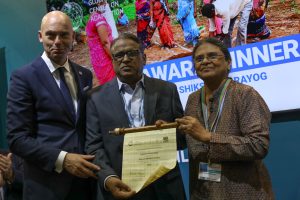 The Capacity and Knowledge category was awarded to an Indian non-governmental organization Swayam Shikshan Prayog for their work in supporting women farmers to adopt more resilient and sustainable agricultural practices in Maharashtra, India, where a focus on water-intensive cash crops currently leaves farmers exposed to climate shocks such as poor monsoon seasons.
The organization developed a women-led Climate Resilient Farming model, helping farmers to transition from cash crops to food crops, as well as from chemical to bio inputs, while also supporting in the conservation of soil and water and the promotion of more diversified and resilient livelihoods through farm-allied businesses.
"When women started telling us that they had no food to eat, that's when our agriculture work with them truly began. We were trying to ensure food security for the families first. Instead of focusing on kitchen and home gardens, the women grow food on the farm, eat from there, and do it in organic, water-efficient, and low-cost ways," said the Director of Programs for Swayam Shikshan Prayog organization.
To him, "Growing these crops has created a dependence on expensive chemical fertilizers, pesticides and market-bought hybrid seeds for the farmers thereby steeply increasing their cost of cultivation. To bring about changes, women continuously need to use their innate wisdom of being food and nutrition managers of the family, which helps them think and decide what to grow, what inputs to use and what farm allied activities to take up."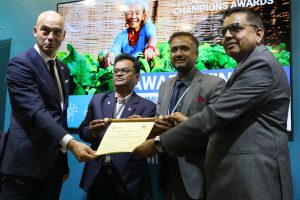 The final winner in the category of local innovation was the Community Development & Advocacy Forum Nepal, which has helped farmers shift from one crop per year to three crop cycles a year, through better conservation and management of rainwater and groundwater resources.
The Forum has led the way in mobilizing local communities in natural resource conservation, watershed conservation, river system management, and degraded land rehabilitation in a region of Nepal which is vulnerable to floods and desertification.
Acknowledging the award, Nagdev Yadav, President of the Community Development & Advocacy Forum Nepal stated that, "Our intervention addresses the pressing issues associated with the livelihoods of the local community along the River basin from upstream Siwalik hills to downstream terai."
Ground water he revealed is the only source of drinking water and irrigation for the communities in downstream areas, therefore rehabilitation efforts further upstream improve erosion whiles sedimentation control also makes water available for people downstream.
"From mango, litchi, lemon and papaya to vegetables, degraded and dry riverbanks have been turned into green areas that, immediate and long-term income has been ensured to the landless and smallholders, benefitting more than 10,000 households".
"Before people had to dig or go far away to find drinking water. Now, communities have witnessed the results themselves: from growing only rice in one year, now they can grow maize, wheat, vegetables and fruits and they have seen the benefits on their nutrition and harvests," he claimed.
The award winners were selected by a prestigious jury, comprised by:
Rania A. Al Mashat, Minister of International Cooperation of the Arab Republic of Egypt, Professor Patrick V. Verkooijen, Chief Executive Officer of the Global Center on Adaptation, Saima Wazed Putul, Thematic Ambassador for Vulnerability of The Climate Vulnerable Forum, Sheela Patel, Director of the Society for Promotion of Area Resource Centres and Ban Ki-moon, Chair of the Global Center on Adaptation Board and 8th Secretary-General of the United Nations.
About the Global Center on Adaptation
The Global Center on Adaptation (GCA) is an international organization which works as a solutions broker to accelerate action and support for adaptation solutions, from the international to the local, in partnership with the public and private sector. Founded in 2018, GCA operates from its headquarters in the largest floating office in the world, located in Rotterdam, the Netherlands. GCA has a worldwide network of regional offices in Abidjan, Cote d'Ivoire; Dhaka, Bangladesh and Beijing, China.
Source: www.thenewindependentonline.com